Virtual Trade Show Platform
Communique Conferencing's enterprise-grade, cloud-based, virtual trade show platform functions as a traditional off-line trade show translating exhibit halls, booths, presentations & networking into a highly customized and engaging 3D virtual trade show environment
A powerful 2D virtual trade show platform geared towards smaller virtual only events or hybrid events. Deliver a multi-session virtual trade show with audience engagement and key event spaces.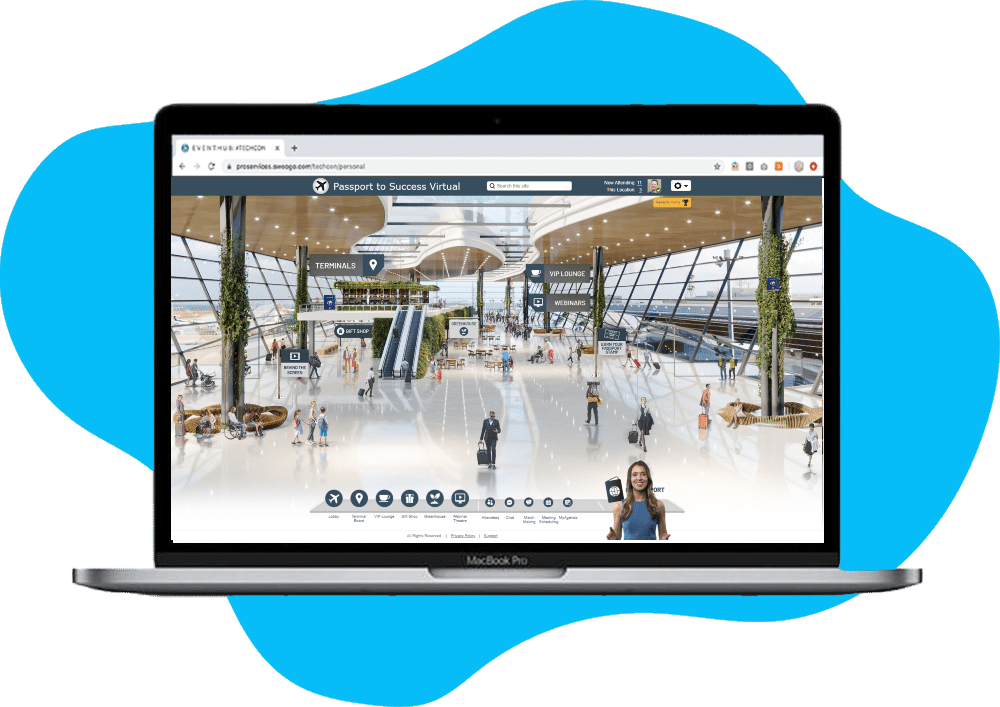 Deliver an incredibly immersive 3D trade show experience that emulates an in-person event with exhibit halls, booths, presentations, networking and engagement tools. Self-service license for smaller events or full scale license for up 100,000 attendees.

VIRTUAL TRADE SHOW PLATFORM FEATURES
Virtual Event Platform Lobby
Virtual Conference Platform Lobby
When joining the virtual trade show attendees access a fully customizable expo lobby where a video greeting can welcome them. On screen hotspots provide entry to the Theater, Exhibit Hall, Resource Center and Communications Lounge. Consistent navigation at the bottom of the screen provides additional functionality and shortcuts.
Choose from dozens of design templates or  create a completely custom design.
The Virtual Trade Show Exhibit Hall gives attendees the ability to browse exhibitor booths. An exhibitor directory makes it easy to locate specific booths all with a click of their mouse.
Attendees can easily find matching booths based on multiple search criteria.
Virtual Conference Platform - Booth
Booth owners can choose from dozens of pre-designed booth templates or upload a custom design. Virtual event booths can include any digital content including: documents, videos, links to web-pages, social media links, surveys, and prize giveaways. When a visitor enters a booth, reps receive an alert. Chat options include:
Private 1:1 chat
Public group chat
Chat queue
Video Chat
Attendees can visit the virtual trade show auditorium to attend live and on-demand webinar presentations that can include:
Q&A, Polls & Surveys
Language translation
Closed captioning
Speaker bios & downloadable resources
Presentations can be organized into different tracks or break out sessions.
Quiz allowing attendees to earn CE credits.
The Communications Center offers networking features including scheduled discussions, message boards, group chat by topics, and discussion forums.
Organizers can allow attendees the ability to connect with each other and share virtual business cards.
1:1 and small group chat
Public chat for open dialogue
Moderated chat for guided discussion
Language translation (97 languages)
A central repository for virtual trade show content including; videos, documents and links to web pages with search and bookmark tools.
Content can be organized into different content windows or a "media wall" design.
Tell us your attendee persona's and we will help you design the optimal content consumption strategy.
Use Communique's integrated Webcasting service to deliver Live, Semi-Live and On-Demand presentations (audio, slides and/or video) to any audience on any device. Features include; chat, Q&A, surveys, polls, and social media integration. Production crews are available to capture TV quality live video streams.
Alternatively, you can link to any 3rd party webinar service such as GotoMeeting, WebEx, Adobe Connect, Zoom, Vimeo, etc.
Drive attendee behavior (visit booths, download materials, watch videos, attend webcasts, chat with reps, etc.) using our powerful gamification feature. Assign points for activities, offer prizes and display a real-time leaderboard.
Incentivize attendees to interact throughout the environment
Promote engagement with content, booths, event staff, peers
Assign point values by individual content item or action
Offer prizes or other incentives for activity as individuals or group attendees into competing teams
A.I. Powered Networking & Content Suggestions
With AI Powered Matchmaking, event organizers are able to lead attendees on an experience-laden journey that ultimately educates them and connects them with peers and sponsors.
Networking Matching: Attendees can view suggested attendees and sponsors to connect with via text and video chat. Offline attendees can be connected through email.
Content Suggestions: Attendees can see and access suggested content (documents, presentations, videos, etc.) based on their profile and behavior.
Booth Rep Meeting Scheduling: Enables attendees to schedule meetings with Booth Representatives within the environment. Appointments are saved to the attendees personal agenda.

NO DOWNLOAD REQUIRED
Browser based - no download required. Both PC and MAC operating system supported as well as all mobile phones & tablets.

INCREDIBLY CUSTOMIZABLE
Fully Customizable to reflect your brand and virtual conference goals. Choose from dozens of templates or create any custom look.

REGISTRATION & REPORTING
Built-in registration form or integrate with any 3rd party software. Track every detail of the virtual conference including all attendee activity.

MULTIPLE LANGUAGES
29 Languages supported allows you to simultaneously reach audiences worldwide. Live webinar interpretation and captioning.

ENTERPRISE-GRADE HOSTING
The most rock-solid, scalable, globally reliable & secure cloud hosting infrastructure available. ISO 27001 certified for data security & GDPR compliant.

FANATICAL SUPPORT
A dedicated program manager, event producer & team of support personnel help manage your virtual conference every step of the way. Live day support for organizers, attendees, and presenters.
Over 3,000 Customers Trust Communique Conferencing

Virtual Trade Show Features
Create bespoke attendee experiences with stunning design and A.I. powered engagement.
Environment Design & Navigation
Design
Rock solid, reliable hosting. Scales to 100,000 attendees & is ISO 27001 Certified for attendee data security
Choose from stunning 2D or 3D templates or create any custom design you can imagine
Include any type of room such as a lobby, exhibit hall, theater, networking lounge, help desk, resource center, etc.
Add custom avatars to represent your organizations culture, diversity and connect with your audience.
Easy, intuitive navigation
Virtual Trade Show Resources

WHY

HOW

WHAT
Our Customers Rave About Us
Jason A.
As we wrap up our first virtual conference, we can certainly say that we are very happy with the dedication and customer service from the Communique support team. Courtney, our dedicated project manager, provided weekly phone meetings with us to keep the project on track. She was incredibly responsive. Even on the weekends. This kind of responsive and knowledgeable support is rare to experience and we hugely appreciate it. As this was the first time we had run a virtual conference, we had lots of questions.
Drew M.
Working with Communique Conferencing was a fantastic experience. It was our first time producing a virtual conference and our project manager and the rest of their support team was incredible. They clearly had deep experience hosting these types of virtual events and consulted with use every step of the way from marketing best practices to the environment look & feel. The platform is highly customizable and it worked incredibly well on PCs and mobile phones. The feedback from attendees was very positive.
Joanie
Communique Conferencing is extremely responsive, professional and very easy to work with. They make it easy on the customer and are obviously very experienced in their field. We have been thrilled with their work ethic and sense of urgency. A great partner for our needs! Communique even helped with marketing best practices and selling booth sponsor best practices. Visually the platform is the best that we found. The booths are highly interactive and mimics the physical experience of attending a conference.