Hop On Board! You are in Great Company

Industry-Specific Event Solutions
Host Bespoke events to meet your objectives and cater to your audience.
Features to Create Any Event Experience You Can Imagine

Event Registration Software Platform All-in-One Event Registration Software for In-person, Virtual, and Hybrid Events Create a modern, custom branded, mobile friendly event registration landing pages and forms to deliver an easy-to-use registration experience. Demo Request Send Me Pricing Everything You Need for Event Registration Custom Landing Pages Payment, Discounts, & Ticketing Agenda & Sponsors Reporting…
Communique Event Cloud Benefits

NO DOWNLOAD
Browser based - no download required. Both PC and MAC operating system supported as well as all mobile phones & tablets.

CUSTOMIZABLE DESIGN
Both simple 2D or fully customizable 3D designs are available to wow attendee and reflect your brand.

TRACK & MEASURE
Track and report on every detail of the virtual conference including all attendee activity, content views, webinar views, booth visits, etc.

MULTIPLE LANGUAGES
29 Languages supported allows you to simultaneously reach audiences worldwide. Live webinar interpretation and captioning.

ENTERPRISE-GRADE HOSTING
The most rock-solid, scalable, globally reliable & secure cloud hosting infrastructure available. ISO 27001 certified for data security & GDPR compliant.

FANATICAL SUPPORT
A dedicated program manager, event producer & team of support personnel help manage your virtual conference every step of the way. Live day support for organizers, attendees, and presenters.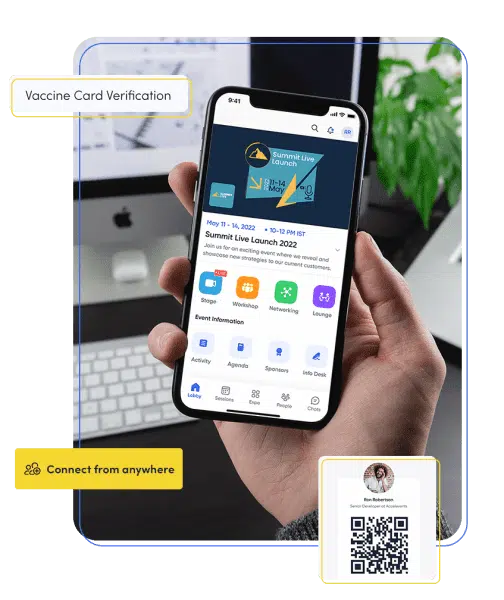 Powering Hybrid and In-Person Events
Easy contactless onsite check-in
COVID forms
View live or recorded sessions
Networking
Virtual booths
Access to digital resources
Gamification
Push notifications & announcements



A+
BETTER BUSINESS BUREAU
Lisa V.
Their virtual event platform is the best I have seen. We held five virtual events for our non-profit since 2020, and received very high marks from our attendees and sponsors. Their project team is easy to work with and was helpful in getting our staff up to speed quickly so we could transition from in person events to virtual in a very hectic year. Our project managers support and advice throughout the virtual event set up process ensured that we were well prepared in the weeks before the conference, and that the live days ran very smoothly. 100% of attendees surveyed indicated that they would recommend our virtual events to others.
Joanie
Communique Conferencing is extremely responsive, professional and very easy to work with. They make it easy on the customer and are obviously very experienced in their field. We have been thrilled with their work ethic and sense of urgency. A great partner for our needs! Communique even helped with marketing best practices and selling booth sponsor best practices. Visually the virtual trade show platform is the best that we found. The booths are highly interactive and mimics the physical experience of attending a trade show.
Bill J.
We use Communique to host large, global events for our customers and partners. Their platform is incredibly reliable, secure and easy-to-use. In addition, the project managers and customer support staff are very good. They are responsive, knowledgeable... everything that you can ask for. I highly recommend Communique Conferencing.
For 22 years we have helped clients around the world manage thousands of Webinars, Virtual, and Hybrid events.