AHIP Partners with Communique for its National Virtual Conference 2021
Case Study: AHIP National Virtual Conference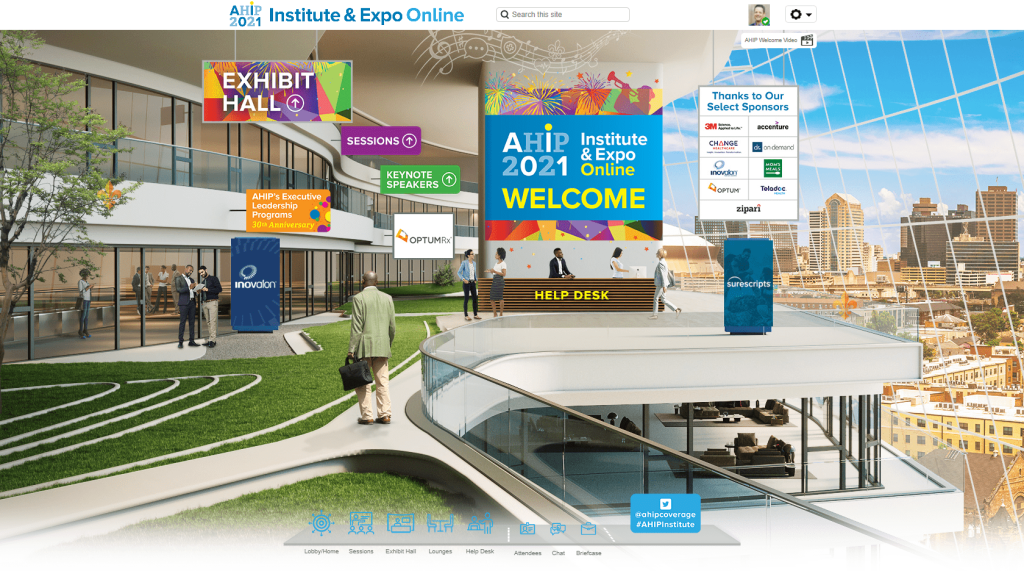 Industry: Healthcare
Solution: Virtual Conference Platform
Background: AHIP is the national association whose members provide health care coverage, services, and solutions to hundreds of millions of Americans every day. AHIP is committed to market-based solutions and public-private partnerships that make health care better and coverage more affordable and accessible for everyone.
Each year AHIP hosts its National Virtual Conference on Medicare, Medicaid and Dual Eligibles. The event covers policy, regulatory, and operational issues affecting Medicare Advantage and Part D, Medicaid managed care, and programs to better serve those who are dually eligible.
Due to COVID-19 they were not able to arrange an in-person event, therefore, they decided pivot to a virtual conference format. AHIP chose Communique as their virtual conference platform partner.
Across four vibrant, information-packed days, attendees were able to engage with leadership from CMS and the administration, health insurance provider executives, government officials, health policy professionals, and industry thought leaders.
The Goal: 
The main goal of virtual conference was to educate its healthcare provider members with engagement webinar sessions from industry though leaders, offer networking and connect attendees with booth sponsors.
The four day event had multiple tracks/sessions to cater to various attendee personas.
Why Communique Conferencing:
AHIP hosted three virtual conferences with Communique so far since the pandemic hit in 2020. Because they had an outstanding experience with Communique in the past, they chose Communique for their larger, high-profile national conference.
Key Features: 
Live and simulated live sessions – AHIP implemented a combination of 65 total live and simulated live sessions which featured talks from the panel of experts. The sessions were followed by a live Q&A session where attendees engaged with industry experts.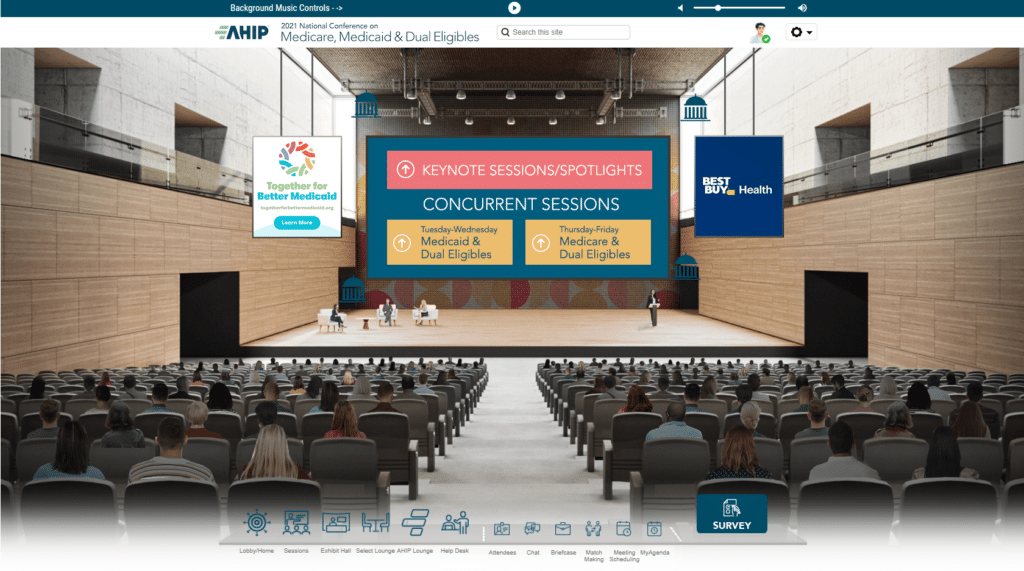 Exhibit Booths – Thirty two virtual booths were set up for sponsors to engage with attendees via text and video chat, presentations and offer a variety of downloadable content. Exhibitors received detailed reporting on booth visits, content views, chat sessions, etc.
The main feedback that we receive overall from both sponsors and exhibitors is just how great the platform is. Especially from those that have sponsored and exhibited in other virtual events. They say that the platform that we use is top of the line across the board. It has the things they are looking for in a virtual event such as customization, ease-of-use, engagement, and metrics.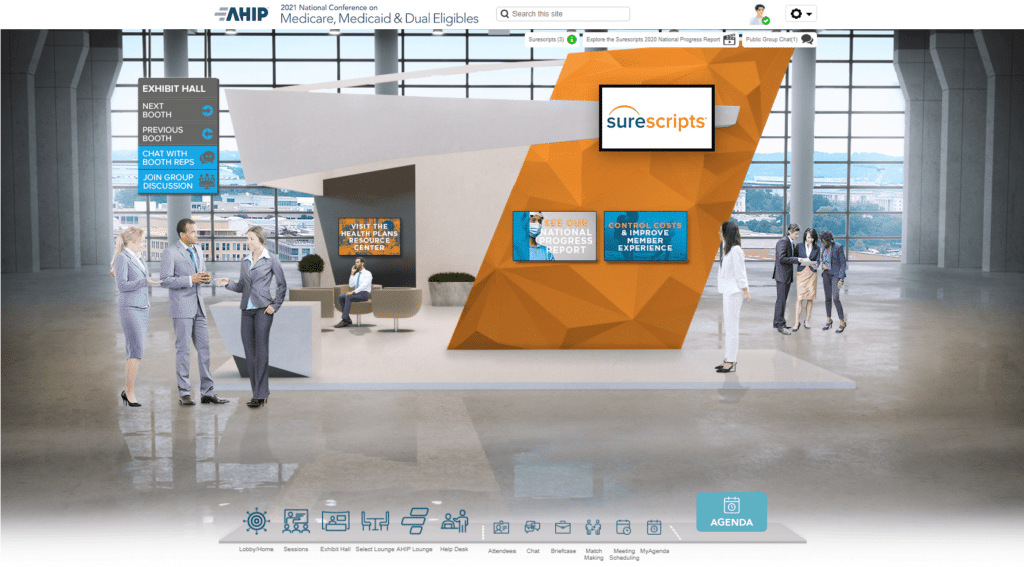 Scavenger Hunt – AHIP used Communique's gamification feature to arrange activities like a scavenger hunt. It not only increased the audience engagement but also enhanced satisfaction and promoted networking opportunities.
Sponsor Lounge – Platinum sponsors were showcased in a special lounge where attendees could book appointments and meet with industry suppliers and experts.
Results: 
"The consistent feedback from our attendees that participate in our virtual events, especially those that have participated and sponsored in other virtual events, is they unequivocally say that the platform we're using is far and above everything else they have participated in. The look of it, the feel of it, it's really easy to understand, its visually pleasing, and things work the way they are supposed to work." – Lisa S. – SVP
AHIP also received rave reviews from their sponsors and exhibitors.
"The main feedback that we receive overall from both sponsors and exhibitors is just how great the platform is. Especially from those that have sponsored and exhibited in other virtual events. They say that the platform that we use is top of the line across the board. It has the things they are looking for in a virtual event such as customization, ease-of-use, engagement, and metrics." – Angie Avendano – Events & Sponsorship Manager
AHIP Virtual Conference Stats