Best Practices for a Virtual Conference Booth
How to set up a virtual conference booth and draw engagement
Here's how to think outside of the four walls of a physical trade show and take an exhibitor booth virtual.
Virtual conference platforms enable brands to build their own virtual booths and connect with attendees during the live the virtual conference as well as the on-demand period. Much like what would happen at an in-person event. The idea is simple, really, except we are not used to thinking outside of the four walls of a convention center.
"It's just like being at a show—being at your booth and waiting for someone to come by, but it's a virtual drive-by," says Steven Spangler, vice president of sales for GlassApps. Spangler has some experience "exhibiting" at recent distributor virtual events and offered insights on ways to make the most of a virtual booth.
Like everything else in this new virtual world, it just takes a little experience to get used to doing things a different way. Here are strategies to adhere to when setting up a virtual booth.
Focus on the visuals. Exhibitors should take the time to customize the graphics to create a visually appealing environment. Also, make sure to include images of your products.  If your organization has new product offerings, be sure to highlight that here. Finally, upload any marketing materials (keeping them to 1-2 pages as PDF files) and videos.
Be targeted. If the platform allows for it, select appropriate search tags for your company type, attributes and categories to attract your target audience. This allows attendees to easily find the companies and types of products they're looking for.
Organize content by persona. Most virtual trade show booths are organized by generic buckets (Resources, About Us, etc.). But you don't necessarily have to organize your booth that way. Another option is to organize content by attendee persona. Booth visitors knew exactly where to go for information most relevant to their issues. You could also organize by topic, pain point or motivator. Doing this effectively requires that you've gone through some kind of persona development exercise so you understand what kinds of information your attendees will react to the most.
Don't overload. Throughout the booth, sponsors should only include information that would be of interest to a attendee. This should include details of what you're offering at the show but keep them succinct. "Don't provide a 10-page sales deck because they won't go through that," Spangler advises.
Be responsive. When chats start to happen, exhibitors should respond right away. Make sure that your booth is staffed appropriately for the anticipated traffic. Ask the event organizer for updated registration numbers to plan staffing.
Include a call-to-action. The best way to collect attendee information is include a one-click call-to-action. Examples are: sign up for our newsletter, prize drawing, contact request, etc.
Include both text and video chat. Give attendees the option to engage with booth reps via text or video. Initial conversations will likely start with text to establish rapport, then potentially move to video.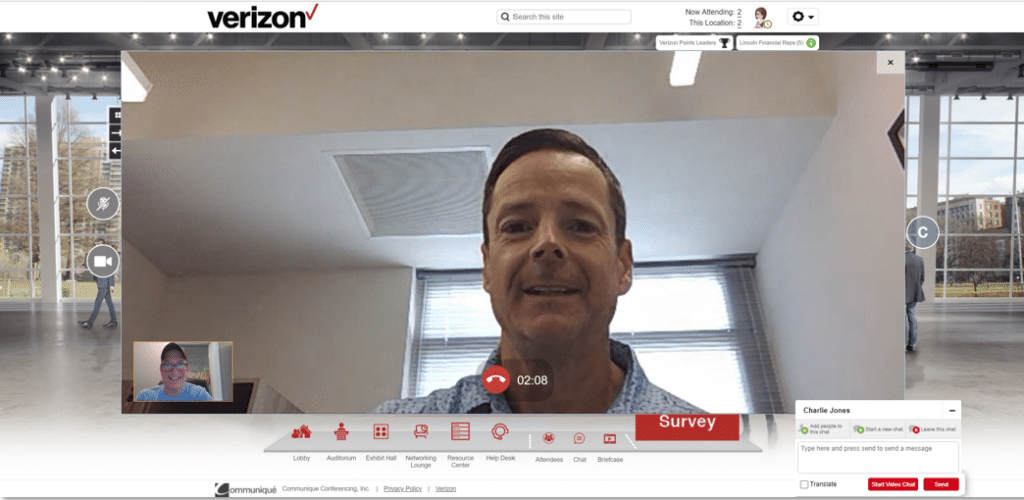 Host a live demo or presentation each day. Pick a time each day during exhibit hall hours to host a live (short) presentation. Include a sign with the schedule and link to join.
These items might seem obvious, but the more preparation you can do to appeal to your virtual attendees the better.