Event Reporting & Analytics
In-depth reports & metrics to measure your virtual or hybrid event ROI.
Gear up for your most productive event debrief ever.
Every attendee activity is tracked including registration, attendance, content views, webinar views, how long, booth visits, networking, gamification, and more.
Our open API can automatically push data to your CRM.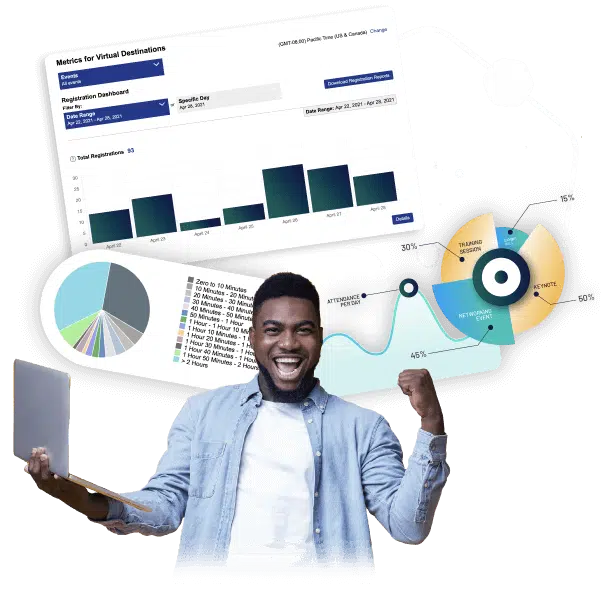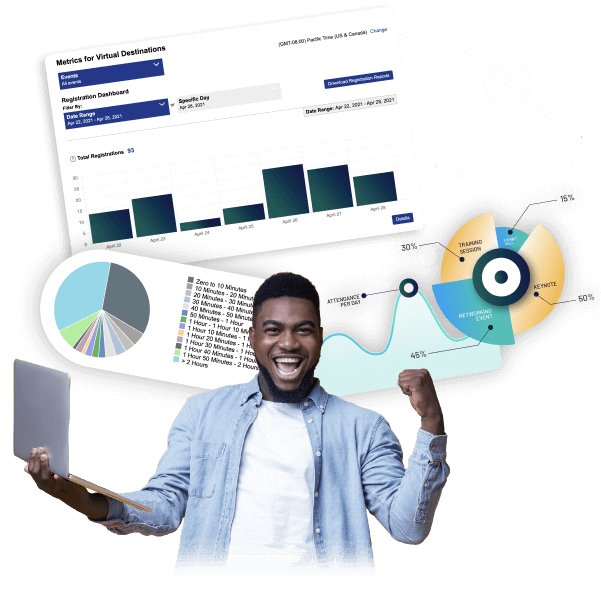 View real-time registration, ticket sales, and live day activity directly from your virtual event dashboard.
Access session reports to analyze live attendance numbers and average attendance duration data to help make informed decisions on your personas and the type of content they find most valuable.
Download reports or use our API to push them automatically to your CRM.
Track and measure effectiveness of your event's engagement by viewing the number of connections or matches made within the dedicated networking breaks, and through your session chats, Q&A, and poll results.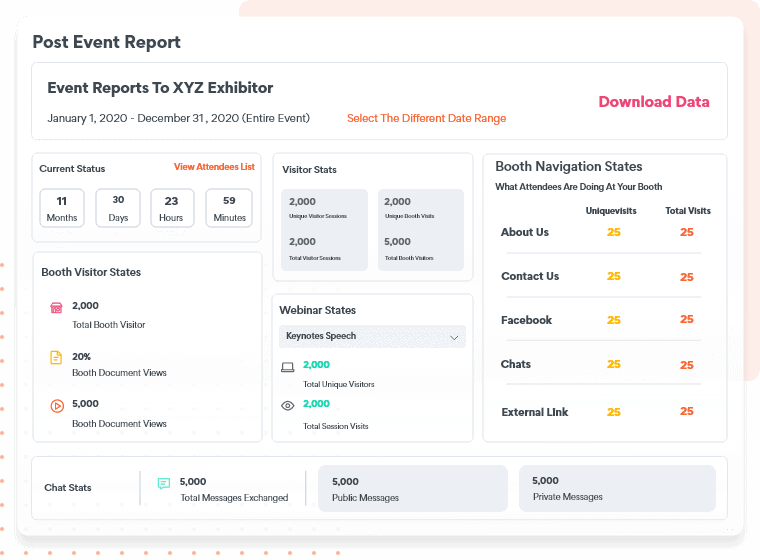 Booth owners can see how their booth is performing by tracking visits, clicks, content views, downloads and rep chat activity.
The booth owner dashboard is updated in real time to help maximize ROI.
Customers Love Communique's Reporting Feature


"The post-event analytics are amazing! I was able to quickly pull data on everything I needed and send out post-event reports to my exhibitors."
Mark D



"Communique has extensive reporting analytics that we were able to access in real time. We used their API to automatically feed data to our CRM."
Natasha O



"All the data that was collected based on guest interactions was extremely helpful to our management and sponsors. The data will better help us determine future programming for our members."
Chris O

Ready to Host Epic Virtual Events With Robust Reporting?
Explore Our Other Features
Virtual Networking Facilitate meaningful connections during your virtual and hybrid events. Our virtual event platforms offer many interactive features that make it easy to for…
Read More