How to Host a Virtual Conference (2023)
Wondering how to host a virtual event? Virtual conferences are the new normal. Event planners need to adjust and learn how to host a virtual conference that's just as impactful and engaging as an in-person conference. Planners shouldn't think they can lift an in-person event content and shift it to a standard slides-and-audio presentation. Delivering an online event is not inexpensive in time and money. Successful ones require a lot of planning, effort and creativity. As a result, additional costs should be expected.
This step-by-step guide shows to how to host a virtual conference in 2022 including a roadmap to delivering a successful virtual conference.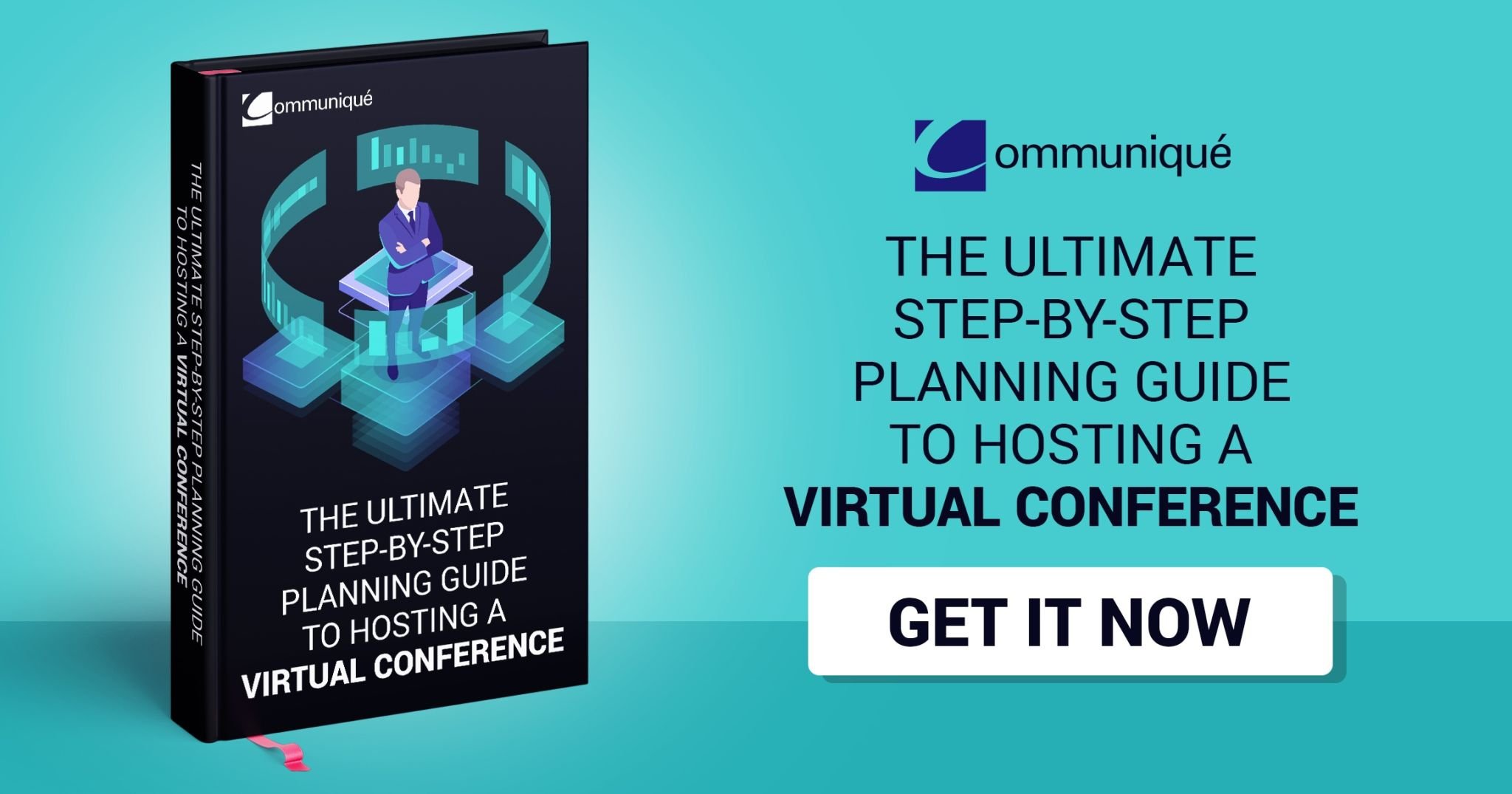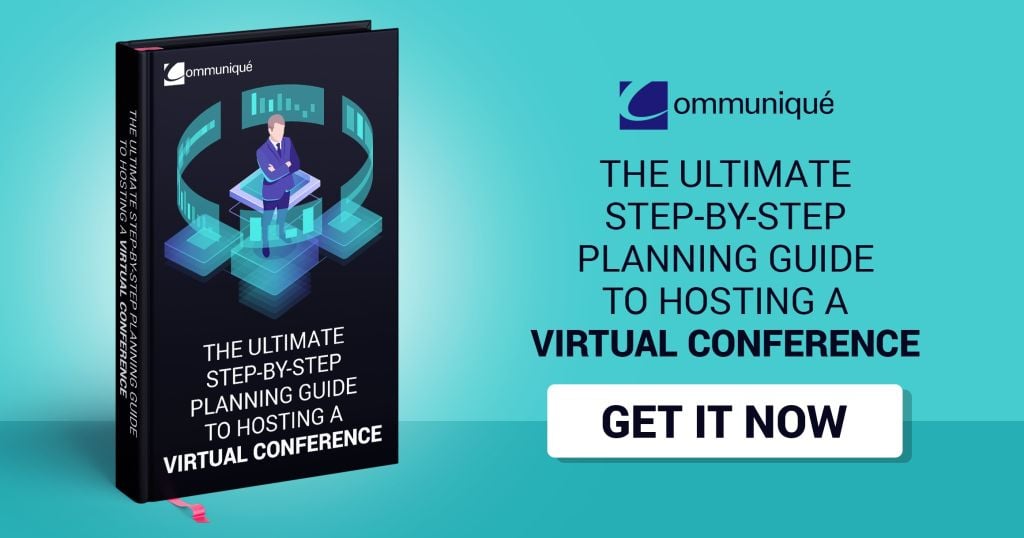 What Are the Benefits of Hosting a Virtual Conference?
Virtual events are becoming increasingly popular due to the wide range of benefits it offers businesses, including:
Cost savings: Virtual events require much less financial investment than traditional events, as businesses don't need to pay for a venue, catering, or transportation. This can result in significant cost savings, allowing businesses to redirect funds to other areas of the business.
Global reach: Virtual events enable businesses to reach customers, partners, and employees from around the world. This is especially beneficial for businesses with an international customer base.
Increased engagement: By providing a platform for people to interact in real-time, virtual events can help to foster stronger connections.
How Long Does it Take to Set Up a Virtual Conference?
The answer depends on the complexity of the event. A simple, single-room environment with links to webinar presentations and downloadable resources can be set up in a week. On the other hand, event organizers that want a full-scale online trade show with multiple locations such as a welcome lobby, exhibit hall with booths, theater, networking lounge, resource center, etc. typically take six weeks or more to set up. If a virtual event includes external booth sponsors, they will need time to gather their digital assets (documents, video's, links to webpages) and graphics to set up their virtual booth.
Most of the work that goes into planning and executing an in-person conference is the same as hosting a virtual conference. The speakers/topics, sponsors, games/prizes, entertainment, registration, and attendee promoting activities are essentially the same. The difference is the venue to deliver the event (online vs. a hotel or other physical space).
It is important to think about the time and effort it takes to set up an in-person event in a ballroom or other bricks-and-mortar venue. Mapping out the attendee's journey and creating an engaging experience is key. Time is spent nailing the agenda, décor, linens, staging, lighting, meals, entertainment, music, signage, staffing and much more. With a virtual conference, even more thought needs to go into the attendee's journey. Careful thought should go into choosing rooms and spaces, design, branding, signage, etc. Then, a lot of thought needs to go into the content strategy and how the content is best consumed by the attendees by each persona. Finally, setting up an engagement strategy is critical. Engagement with session speakers, the organizer, booth reps and each other (networking) is part neuropsychology, part design and part magic! Introducing high-quality content in an engaging, easy-to-access, and experiential manner is critical to a virtual event's success. It doesn't just happen on its own.
The below step-by-step process breaks down how to host a virtual conference that gets results.
How to Host a Virtual Conference: A Step-By-Step Process
Create the virtual conference agenda
Though day-long in-person events are common, much of that time includes meals and socializing. The best practice for a virtual conference is four hours or less per day. The typical virtual conference is 1-3 days duration. If there are a lot of webinar sessions, consider setting up concurrent tracks so that attendees can choose to attend sessions that are most relevant to their needs. Any sessions missed can be viewed on-demand. The best practice is to save the most anticipated session or speaker for last.
Since the attendees are not traveling, they will not all be in the same time zone. Find out where the attendees are located (country and time zone) and adjust the timing accordingly. If the event is for a global audience with attendees joining from North America, EMEA and APAC, consider running the same event three different times to cover each region. As a general rule, if the time zone difference is over 8 hours, a separate event should be used. If so, the virtual conference provider must (a) have a global support team to help run the sessions and provide support to the organizer, speakers, and attendees across multiple time zones and (b) be able to run the webinar sessions simulive (pre-recorded with Q&A) for the other time zones.
Shorten the presentations: Again, attendees are at a computer or mobile device so their attention span is going to be shorter than an in-person event. 30-minute webinar presentations plus Q&A are the best practice for a virtual conference. If CE credits are being issued, 45 minutes is the minimum presentation length.
Add engagement opportunities during webcast presentations such as fun polls and surveys. The goal is to get the remote attendee to touch their keyboard every 3-4 minutes.
Consider adding a 15-minute break in between presentations to allow attendees to explore the exhibit hall, booths and/or network with each other.
Live events have built-in engagement, but each moment of a virtual event needs to be choreograph carefully. Virtual event organizers must work harder to create a sense of community. This can be achieved by bringing in engaging presentations, chat/networking rooms, small breakout sessions, booth sponsor engagement, surveys, etc. The key is to find ways to get everybody talking.
View our complete glossary of virtual conference components explained for event organizers.
Choose a virtual conference provider:
First, start with your event goals, objectives, audience engagement needs and budget to then back into the type of virtual conference platform that is best suited to deliver the event objectives. The term "virtual conference" or "virtual event" is being used to describe a wide range of technology solutions from a simple webinar service, a website or mobile app designed for networking with videos, to full virtual event platforms that emulate an in-person conference.
Just as there is no one-size-fits all solution for in-person events, the same applies for virtual conferences. Organizers that do not have the experience, staffing, and time to manage setting up the myriad of technology, graphics and engagement items need to make sure the virtual conference provider offers full set up support including add-ons like gamification, virtual photo booth, social media wall, etc.
Involve the IT department when vetting virtual conference providers: Just because your event is online does not mean that it cannot encounter major issues. Some examples include attendees having problems connecting, an entire platform outage, the virtual conference provider can go insolvent, webinars or videos do not play properly, functionality such as chat does not work, difficult navigation, the provider shares your attendee's personal information or has a data breach, poor set up support, etc.
Choose a platform with an intuitive interface – very user friendly.
Must-have virtual conference platform features:

Event schedule with multiple sessions (tracks)
Ability to host live and pre-recorded (simulive) sessions videos with Q&A, polls, surveys, etc.
Personalized attendee agenda and audience response features during live sessions to engage your audience online
Meeting scheduling
Virtual booths to showcase products, topics or sponsors
Both 1:1 and small group video chat features
Gamification with leaderboard
Live organizer dashboard to monitor event statistics
Make sure to spend the same amount of effort, if not more, when choosing a virtual conference provider as choosing an in-person venue. Choosing a hotel venue is easier because the property can be visited to see first-hand the condition of the property, how support is available to help organizers and their attendees, the quality of the amenities, food, etc. Choosing the right virtual conference provider is much more difficult because its hosted software that is typically only viewed via a one-hour web demonstration. You cannot see where the platform is hosted, how it is hosted, how much redundancy is in place, bandwidth capacity, how attendee data is secured, etc. Therefore, it's necessary to ask a lot of questions. Click here for a handy checklist for choosing a virtual conference provider.
Assemble a virtual conference team with defined roles and responsibilities.
No matter how big or small your virtual event program, it's important to identify early on the individuals who will help you achieve success. Here's a quick primer on the different roles that are commonly used.
Executive Sponsor — Has the final say on the big picture, and the person who's most committed to the overall success of the program.
Program Managers — A core team of 1-4 people who own the program, overseeing the timeline, the team(s) and progress towards specific project goals.
Content Contributors — The individuals who will submit either existing or new content. Webinars, datasheets, training materials, videos – a lot of content is needed for any virtual event program.
Speakers — Maybe also content contributors, these individuals are your "talent" for live and recorded presentations.
Promotion/Audience Recruitment — The individual or team who will manage the promotion of virtual conference, whether that's outbound demand generation or an internal marketing effort.
Representatives — On point to connect with attendees during any live day activity, this team is often sales reps, product managers or other customer support.
Design/Graphics Support — A key role, this individual or team will provide brand guidelines, images, signage and ultimate approval on all elements related to the virtual environment look and feel.
Sponsor/Booth Liaison — The "go-to" for any sponsors/partners/internal teams who own a booth or room in the virtual environment.
Attendee Support — Responsible for all the small questions about where to find content, agenda, and overall program.
Live Day Team — A mix of all the roles above, it will take full team coordination to execute a successful live day. The virtual conference provider should provide live day chat support for an added fee.
Determine how you want attendees to register and access the Virtual Conference.
Access types:

Low security with email access
Mid security by adding a password
Higher security with Single Sign On (SSO)

Registration form and landing pages: Most virtual conference platforms offer a customizable event registration form. If a 3rd party registration form such as Cvent, etc. is needed, make sure the virtual conference provider has an API for integration.
Create email confirmations and reminders.
Determine if there are any Americans with Disabilities Act (ADA) requirements (support screen readers for visually impaired and closed captioning for hearing impaired. Click here for a complete guide to making virtual conferences more successful.
Decide if any language localization for global audience events (text and graphic translation within the environment and/or session interpretation) is needed.
Pro tip: Include question on your registration forms asking registrants what they'd like to get out of the conference, the topics they're most curious about, and which speakers they're looking forward to hearing from the most. This will help you prepare a more focused agenda.
Virtual environment theme and design.

Do you want a basic 2D (website) look and feel or a 3D virtual event platform with avatars to have that wow factor.
Decide what rooms and spaces to include (lobby, theater, exhibit hall, booths, resource center, breakout rooms, etc.).
Create signs and graphics to customize the experience with the hosting organizations (and sponsors) brand and event theme (colors, branding, navigation signs, banners, scenery, etc.).
Remove friction, anything that hinders the users journey, and any unnecessary steps that make it harder for them to do what hosts want them to do. For example, if a goal is form them to share the content, make sure that the share buttons are noticeable, easily accessible, that no extra clicks are required. Or, even better, have some ready-to-go quotes available to share.

Create the digital content to include throughout the environment rooms and booths (documents, video's, links to websites, surveys, etc.). Also, consider creating a welcome video that plays automatically upon access to greet attendees and set the stage for what they can expect.
Webinar sessions.
Attention spans in virtual events are 50-percent less than with in-person events. Boring PowerPoint's will look even uglier virtual. Speakers who are boring on stage at a live event will be even more boring on a small screen — the difference is that attendees might not walk out on a live speaker, but online, attendees are one click away from something more entertaining.
What types of sessions are required (live, simulive or just on-demand)?
For live webinars, what type of video stream is needed (webcam or RTMP/production stream)?
How many simultaneous sessions are needed (tracks)?
Make sure audience engagement elements are added such as public chat, private Q&A, polls, survey, social media feeds, and links to session resources. Also, consider adding the ability for attendees to rate sessions.
Are Continuing Education (CE) credits being issued? If so, what are the options that the virtual conference provider offers to support this?
Recordings:
Is the ability to edit recordings, change slides, etc. needed?
Should the ability to disable attendees being able to fast forward while viewing recordings be enabled (important for CE credits)?
Are MP4 copies of the sessions needed?
Language interpretation: Live interpreters translate spoken words into to other languages. If this is necessary for attendees, make sure the provider offers language interpretation.
A complete guide to virtual conference speaker best practices.
Plan and design attendee networking (if applicable to your event) activities.
In-person events offer the opportunity for attendees to bump into other attendees in the hallway, between sessions, or on the exhibit floor. Virtual conference agendas, on the other hand, must be tightly choreographed with curated activities to maximum attendee engagement. For example, set aside 5 -15 minutes between sessions to let the attendee's network, access designed breakout rooms or explore the exhibit booths. There are two types of networking:
Intentional networking: The attendees proactively seek out other attendees to connect with during the event.

Set up the ability for attendees to search and connect with other attendees during the virtual conference via text or video chat.
Breakout rooms: Set up small group text or video chat discussions around relevant topics.

Unintentional networking: Bumping into other attendees in the hallway, at the bar, etc. at an in-person event is the most difficult thing to replicate with a virtual conference. Some virtual conference platforms include features such as A.I. matchmaking which recommends other attendees to connect with based on their profile, background, and content viewed.
Plan and set up any virtual conference add-ons for attendee engagement and entertainment (make it memorable). In order to make a real impact, the emotional part of our attendees' minds must be addressed. When organizers create online experiences, focus on emotions first. It may seem harder to do online, but there are a lot of tools for that. For example, virtual events can be fun and can leverage the power of laughter and humor. This can be accomplished by including as many activities as possible that make people smile. The more fun the attendees have, the more they stick to the screens and the more memorable the event becomes. Surprise and intrigue are also powerful emotions.
Experience and engagement is more than just a buzzword. Creating a great experience for event attendees is essential if you want your event to be memorable. Particularly with a virtual conference. To keep attendees' interests piqued, they need to stay engaged. One of the best ways to do that is through entertainment.
Capture the imagination of attendees with fun activities and unique experiences to create a buzz around the event. It can increase audience satisfaction and increase brand exposure in a big way. Get it right and your attendees will create the event's social media buzz themselves. Most platforms do not offer all these so make sure 3rd party apps can be integrated into the platform.
Gamification with a live leaderboard
Social media wall
Virtual photo booth
Team exercises
Live entertainment (magician, wine tasting, yoga, concert)
Attendees have a smartphone by their sides, most likely. Push notifications, incoming texts or emails, and maybe calls. They may have kids running around, they may have a courier knocking at the door. These are external distractions, but there can also be internal distractions, feelings and thoughts going on in their mind. These distractions are also distracting factors. Maintaining people's concentration becomes critical for the virtual event experience.
Prepare for the live day:
Review the entire environment to make sure all the links to content, etc. are correct.
Set up training for the virtual conference administrators as well as the booth chat representatives.
Create the live day broadcast messages to make announcements.
Organize the help desk staffing (attendee chat support).
Plan speaker support for sessions.
Determine post event key performance indicators (KPI's), reporting and metrics.
When it comes to events (virtual and in-person events), key performance indicators (KPIs) are important for measuring success of the event and to identify how future events can be improved.
Virtual conference platform benefits are considerable in terms of access to real-time data analytics. However, many event planners struggle with measuring virtual conference ROI and success.
Success cannot be determined without first defining what it means to be successful. Therefore, before establishing KPIs, have a clear grasp of the goals and purpose of the virtual conference. Whether the purpose is to increase traffic, educate, create brand awareness or generate more qualified leads, the objective of organizing the event should be clear before setting up KPIs for the virtual event.
A complete guide to Virtual Event Analytics & KPI's to  measure success.
In addition to the above steps, follow these best practices for how to host a virtual conference.
How to Market a Virtual Event?
Here are some tips on how to market your virtual event and get the word out:
Utilize Social Media: Social media platforms are a great way to reach out to potential attendees and build anticipation around your event. Create a hashtag for your event and post regularly on your social media accounts. Make sure to include visuals and interesting content that will grab people's attention and encourage them to attend. You can also use targeted ads to reach a wider audience.
Reach Out To Influencers: Influencers have large followings and can be a great way to create awareness about your event. Reach out to influencers who are relevant to your event and ask them to promote it on their accounts.
Use Email Marketing: Email marketing is a great way to reach out to potential attendees and keep them informed about your event. Send out regular emails with information about the event, and include visuals and interesting content to keep people engaged.
Create a compelling landing page: Having a website dedicated to your event is a great way to provide potential attendees with all the information they need. Make sure your website is user-friendly and includes all the necessary information such as event details, speakers, and registration links.
Utilize Paid Advertising: Paid advertising can be a great way to reach a wider audience and get more people interested in your event. Try using platforms such as Google Ads or Facebook Ads to promote your event.
These are just a few tips on how to market your virtual event. With the right strategies and tools, you can easily reach out to potential attendees and create a successful event.
How Can Organizers Practice for a Virtual Conference?
When hosting an in-person conference, it's easy to get to the space a few hours ahead of time to practice and ensure that all equipment and tech are working properly.
However, when hosting a virtual conference there are a lot more variables in play. Make sure all speakers test their connection to the webinar platform well in advance. Also, test all content and navigation to make sure there are no broken links.
Even with plenty of practice, however, things can go wrong. Make sure plenty of tech support staff and customer service representatives are on hand during the virtual conference and create a "Plan B" in case of technical difficulties. Ask detailed questions when choosing a virtual conference provider about the type of support that is available for the organizer, speakers and attendees during the live day(s).
Ask your virtual conference provider the right questions, pay attention to detail when putting together your event, and be obsessed about bringing the best experience to your stakeholders and you're set.
Ready to Host Epic Virtual or Hybrid Events?


Don't settle for mediocre event technology & support. Our event cloud virtual & hybrid event platform can help you host epic events of all kinds - from conferences to trade shows, career fairs to internal events, and more.