Virtual Summits are an Endless Supply of Content
How to Transform Your Virtual Summit into an Endless Supply of Content
Marketing organizations hosting virtual summits for sales have become focused too much on the live day/live event. Most treat the virtual conference as a one-and-done event aside from leaving the virtual environment on-demand for a short period after the live day(s) are over.
Virtual Summits are the Swiss army knife of content creation. Successful marketers shift the paradigm of the live event. They realize that the real value is not just the number of people that register and attend the live event. It is in the content produced during the virtual conference. It is the awareness that you're creating throughout the event and the rich set of takeaways, comments and soundbites that you can get out of the content itself. Virtual conferences are goldmines of marketing assets. There are so many different nuggets of content to use based on needs, audience and delivery channel. Successful marketers take four to five months to plan and prepare for a virtual conference and then leverage all of the great content from the event for the following 18 – 24 months.
Content and key takeaways from virtual conferences can be leveraged after the event and repurposed in other formats such as videos, blog posts, articles and tip sheets.
A recent poll by the Content Marketing Institution revealed that 80% of respondents would rather watch a video instead of reading an email. Short, high-level educational videos, custom success story videos and pre-recorded demos connect your brand to prospects in a more human way than traditional whitepapers.
Post virtual conference best practices:
Create blog posts with embedded video content.
Produce 1-2 minute snackable video clips for social media. People do not have the time or attention span to sit through an entire webinar. It can be reworked into short digestible video clips (key take aways).
Turn the Q&A into an FAQ document.
Transcribe webinars to create blog posts. Posting the full text of your webinars to your website will give you an SEO boost and offers readers another way to consume content.
Download clips of or the entire the audio and create a podcast.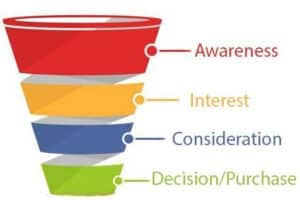 Virtual conferences and webinars do a good job of creating awareness to pique the prospect's interest, create some key takeaways- such as blog posts and short video clips- and promote them via social media. If they consider purchasing, then they can access short custom success story video clips or FAQ's.
Virtual conferences and webinars as a lead generation tactic are incredibly powerful because they create the follow-on content that you need to help move the prospect from awareness to consideration to purchase. They create their own content and lead nurturing program. Let's not waste all of this. Use it to drive the funnel all the way down to purchase.
Another key to re-purposing webinars within a virtual conference is to choose a topic that is timeless. For example, instead of naming a topic such as "Referral Marketing Trends in 2019", something more generic like "Referral Marketing Best Practices" can be used indefinitely. In 2020, nobody will want to watch a webinar entitled "Referral Marketing Trends in 2019".
Another way to develop topics for a virtual conference or webinar is look at your best performing marketing assets and let that inform and guide your future webinars. For example, we have a blog post from 2017 that performs well year over year. So we refreshed and updated the content into a new webinar session during an upcoming virtual conference. Then we refreshed the original blog post and also repurposed the most important information with actionable advice to produce additional blog posts and nurture emails to expand on these tips.
When you begin planning for a virtual sales conference, plan for the post-event. The post-event should not just be sending the on-demand link in an email and posting on your site. Have a check list in place of how to re-purpose the content. Get the webinars transcribed, create a call-to-action (CTA), write 1-2 blog posts, produce short video clips, share it on social. Get into the practice for after-the-live day. Look for soundbites or interesting data to share.
Don't waste that amazing content that your speakers and attendees can come up with during the event. Instead, that content can be converted into a rich source of different follow-on messaging and social media posts that extend well past the live-day event.