Stunning design, powerful engagement, backed by obsessive support.
Leverage dozens of beautiful templates or create any custom design you can imagine to wow your audience and drive your brand. Keep audience attention with content consumption, networking, A.I. matchmaking, gamification, text or video chat, and interactive webinar sessions.
A powerful 2D virtual environment geared towards smaller virtual only events or hybrid events. Deliver a multi-session virtual event with networking, audience engagement and key event spaces.
Deliver an incredibly immersive experience that emulates an in-person event with exhibit halls, booths, presentations, networking and audience engagement tools. Choose from dozens of gorgeous 3D templates or create any custom design you can imagine. Scales to 100,000 attendees.

Communique Virtual Event Platform Benefits

NO DOWNLOAD REQUIRED
Browser based - no download required. Both PC and MAC operating system supported as well as all mobile phones & tablets.

INCREDIBLY CUSTOMIZABLE
Fully Customizable to reflect your brand and virtual conference goals. Choose from dozens of templates or create any custom look.

REGISTRATION & REPORTING
Built-in registration form or integrate with any 3rd party software. Track every detail of the virtual conference including all attendee activity.

MULTIPLE LANGUAGES
29 Languages supported allows you to simultaneously reach audiences worldwide. Live webinar interpretation and captioning.

ENTERPRISE-GRADE HOSTING
The most rock-solid, scalable, globally reliable & secure cloud hosting infrastructure available. ISO 27001 certified for data security & GDPR compliant.

FANATICAL SUPPORT
A dedicated program manager, event producer & team of support personnel help manage your virtual conference every step of the way. Live day support for organizers, attendees, and presenters.
Hop On Board! You are in Great Company

Virtual Environment
Rock solid, reliable hosting. Scales to 100,000 attendees & is ISO 27001 Certified for attendee data security

Choose from stunning 2D or 3D templates or create any custom design you can imagine

Include any type of room such as a lobby, exhibit hall, theater, networking lounge, help desk, resource center, etc.

Add custom avatars to represent your organizations culture, diversity and connect with your audience.

Easy, intuitive navigation
Articles, Tips & Resources

WHY

WHAT
Our Customers Rave About Us
Vicky N.
"I think the best part about working with Communique was their support team! Even if we just had a simple question they were  always quick to reply and help us get an answer. Beyond that, having the platform work flawlessly throughout our  entire event was such a relief! So much so that we're using it for year-around to educate existing staff and new hires."
Lisa V.
Their virtual event platform is the best I have seen. We held five virtual events for our non-profit since 2020, and received very high marks from our attendees and sponsors. Their project team is easy to work with and was helpful in getting our staff up to speed quickly so we could transition from in person events to virtual in a very hectic year. Our project managers support and advice throughout the virtual event set up process ensured that we were well prepared in the weeks before the conference, and that the live days ran very smoothly. 100% of attendees surveyed indicated that they would recommend our virtual events to others.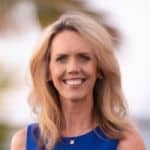 Laura S.
The Communique Virtual Event platform is the best I've seen and gives our virtual events the 'wow' factor we're looking for. We've now used Communique for three virtual events so feel completely comfortable, but the first time you use it can be overwhelming given it has so many features. Communique has done a great job at streamlining the process. Our project manager Julia is amazing to work with and incredibly helpful.