Virtual Benefits Fair Platform
Deliver a virtual, yet personal, benefits experience – both during annual enrollment and year-round – to your workforce with the right combination of and technologies and engaging communication strategies.
Educate geographically dispersed employees about health and benefits via a fully customized virtual environment including provider booths, live chat, webinars, gamification, and more.
Leverage our 22 years experience.
Virtual Benefits Fair Platform Features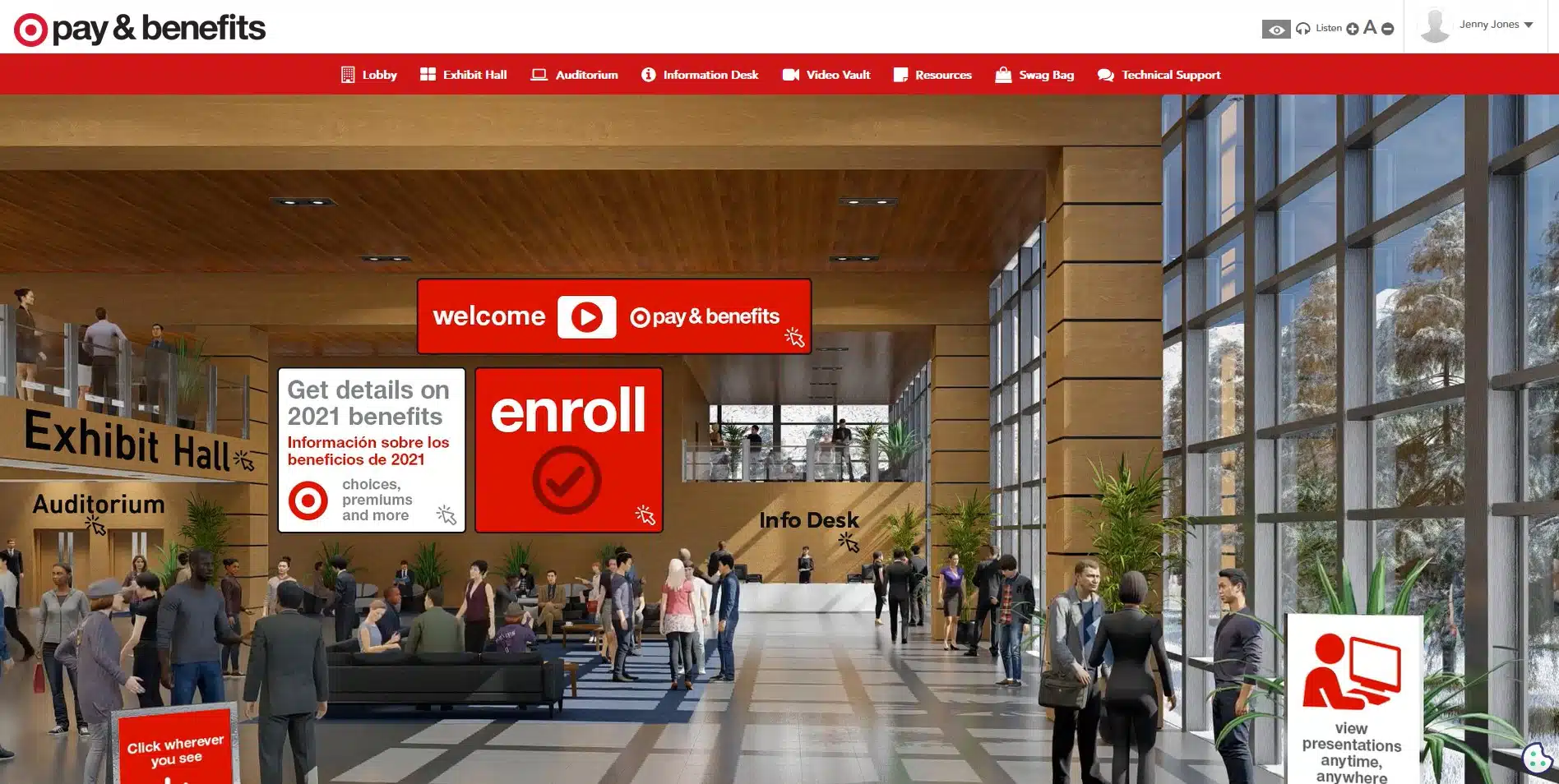 After logging into the virtual health or benefits fair staff enter a fully customizable virtual lobby where a video greeting can welcome and orient them.
A persistent menu allows guests to navigate to additional rooms and spaces.
Choose from dozens of templates or create a completely custom environment design. The possibilities are endless.
The Exhibit Hall gives attendees the ability to browse benefits or health fair supplier booths, chat with a representative, download documents, link to webpages, and watch video's. An exhibitor directory makes it easy to locate specific booths all with a click of a mouse.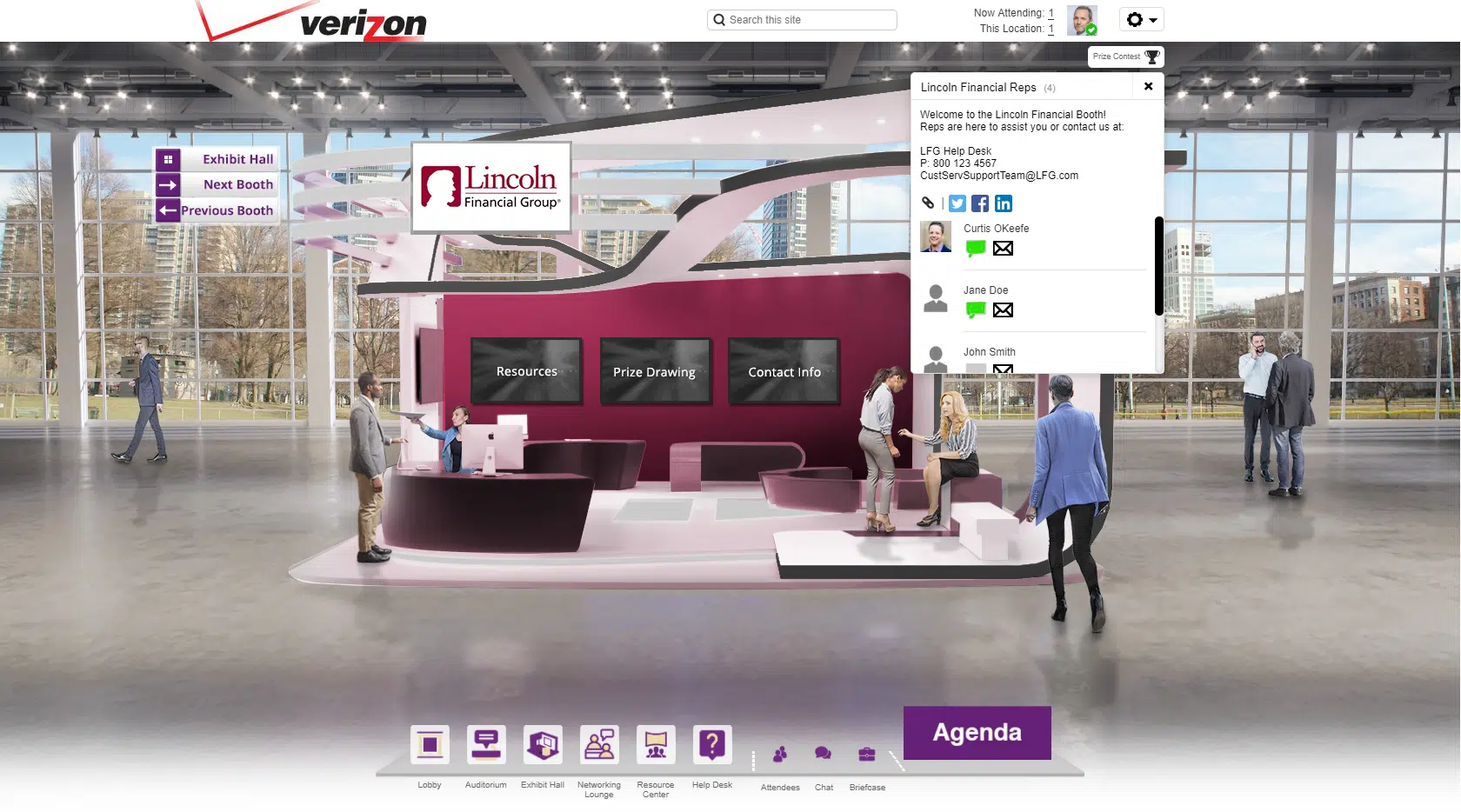 Choose from dozens of pre-designed booth templates or have our create any custom design. Vendors can have both admin access to customize their booth and add their own content.
Guests can text or video chat with a booth representatives during live days. Handy contact forms allow attendees to submit questions during the on-demand period.
Employees can visit the virtual theater to attend live and on-demand town hall presentations from HR leaders. Attendees can participate in live Q&A. Tools are also available to search and bookmark content.
Use Communique native webinar service to deliver live or pre-recorded presentations. Alternatively, you can link to any 3rd party webinar technology such as Zoom, GotoWebinar, WebEx, etc.
A Lounge can be included in your virtual environment to facilitate breakout meetings or topic-based threaded chat discussions.
A central repository for general virtual benefit fair event content including; videos, benefits documentation and links to web pages. A great way to post links to annual enrollment guides, enrollment FAQs as well as a sign that links to right to your open enrollment webpage.
Award points or prizes for content views, booth visits, chats, webinar views, and more.
Incorporate a scavenger hunt where attendees can find hidden objects in each room or booth.
The leaderboard helps drum up competition by showing attendees where they stand in comparison to others, and help encourage more participation.
And of course, be sure to use our broadcast message feature to give a shout-out to the winner to celebrate their accomplishment!
Trusted By Leading Organizations








Top Communique Virtual Benefits Fair Platform Features


FULLY HOSTED, CLOUD SOLUTION
No hardware or software needed. Attendees can join from any modern browser or mobile device.

HIGHLY CUSTOMIZABLE
Easily create a unique virtual benefits fair environment that reflects your brand and goals

REPORTING & ANALYTICS
Virtual benefits fair analytics give you the incredible ability to see exactly what your audience is engaging with, in what order, and for how long.

GLOBAL REACH
Reach your employees and their families without space or time constraints.

ENHANCED SECURITY
Restrict access to only company employees. Identify which credentials should gain access to your event including Single-Sign-On. ISO-27001 certified.

ALL-YEAR-ROUND ACCESS
Keep your virtual benefits fair live all year round for both existing employees and new hires.
Virtual Benefits Fair Resources
Beacon Health Educates 7,000 Employees By Hosting a Virtual Benefits Fair Industry: Healthcare Solution: Virtual Benefits Fair Platform Summary: Beacon Health Options offers clinical mental…
Read More
4.9 OUT OF 5 STARS Overall Satisfaction Rating Based on 126 Customer Reviews
Vicky N.
"I think the best part about working with Communique was their support team! Even if we just had a simple question they were  always quick to reply and help us get an answer. Beyond that, having the platform work flawlessly throughout our  entire event was such a relief! So much so that we're using it for year-around to educate existing staff and new hires."
Jason A.
As we wrap up our first virtual conference, we can certainly say that we are very happy with the dedication and customer service from the Communique support team. Courtney, our dedicated project manager, provided weekly phone meetings with us to keep the project on track. She was incredibly responsive. Even on the weekends. This kind of responsive and knowledgeable support is rare to experience and we hugely appreciate it. As this was the first time we had run a virtual conference, we had lots of questions.
Drew M.
Working with Communique Conferencing was a fantastic experience. It was our first time producing a virtual conference and our project manager and the rest of their support team was incredible. They clearly had deep experience hosting these types of virtual conferences and consulted with use every step of the way from marketing best practices to the environment look & feel. The platform is highly customizable and it worked incredibly well on PCs and mobile phones. The feedback from attendees was very positive.



A+
BETTER BUSINESS BUREAU
Virtual Benefits Fair FAQs