Virtual Conference Platform
Stunning design, powerful engagement, backed by obsessive support.
Create your ultimate virtual conference leveraging dozens of beautiful templates or create any custom design you can imagine to wow your audience and drive your brand. Keep their attention with content consumption, A.I. driven matchmaking, gamification, text/video chat, and engaging webinar sessions.
A powerful 2D virtual conference platform geared towards smaller virtual conferences or hybrid events. Deliver a multi-session virtual conference with networking, audience engagement and key event spaces.
Virtual Conference Ultimate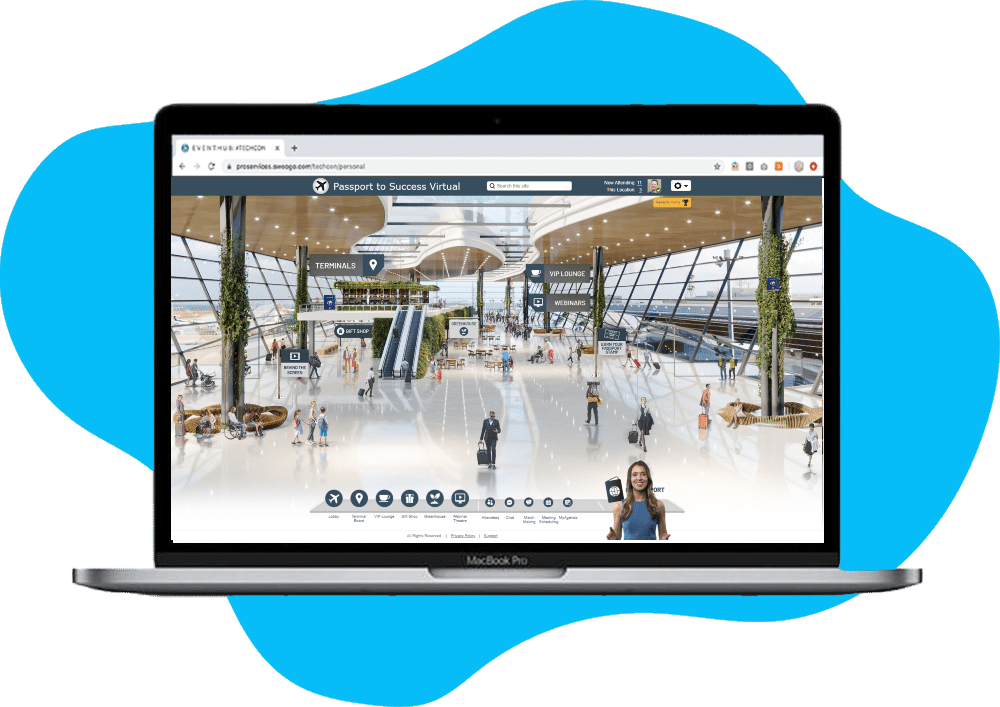 Deliver an incredibly immersive virtual conference experience that emulates a physical event with an exhibit hall, booths, webinars, networking and powerful engagement tools. Choose from gorgeous 3D templates or create any custom design you can imagine.

NO DOWNLOAD REQUIRED
HTML5 based - no download required. Both PC and MAC operating system supported as well as mobile phones & tablets.

INCREDIBLY CUSTOMIZABLE
Fully Customizable to reflect your brand and virtual conference goals. Choose from dozens of templates or create any custom look.

REGISTRATION & REPORTING
Built-in registration form or integrate with any 3rd party software. Track every detail of the virtual conference including all attendee activity.

MULTIPLE LANGUAGES
29 Languages supported allows you to simultaneously reach audiences worldwide. Live webinar interpretation and captioning.

ENTERPRISE-GRADE HOSTING
The most rock-solid, scalable, globally reliable & secure cloud hosting infrastructure available. ISO 27001 certified for data security & GDPR compliant.

FANATICAL SUPPORT
A dedicated program manager, event producer & team of support personnel help manage your virtual conference every step of the way. Live day support for organizers, attendees, and presenters.
Over 3,000 Customers Trust Communique Conferencing

Virtual Conference Platform Features
Create bespoke virtual conference experiences with stunning design and A.I. powered engagement.
Virtual Environment
Choose from stunning 2D or 3D templates or create any custom design you can imagine
Include any type of room in your virtual conference such as a lobby, exhibit hall, theater, networking lounge, help desk, resource center, etc.
Add custom avatars to represent your organizations culture, diversity and connect with your audience.
Easy, intuitive navigation
What is a Virtual Conference Platform?
A virtual conference platform functions like a traditional in-person conference, translating sessions, exhibit hall, booths, networking and access to resources into a customized and engaging online venue.
Virtual conferences are completely hosted and run online with the potential for attendees to view or participate from anywhere in the world.
VIRTUAL CONFERENCE PLATFORM RESOURCES

WHY

WHAT
Our Customers Rave About Communique Conferencing
Jason A.
As we wrap up our first virtual conference, we can certainly say that we are very happy with the dedication and customer service from the Communique support team. Courtney, our dedicated project manager, provided weekly phone meetings with us to keep the project on track. She was incredibly responsive. Even on the weekends. This kind of responsive and knowledgeable support is rare to experience and we hugely appreciate it. As this was the first time we had run a virtual conference, we had lots of questions.
Drew M.
Working with Communique Conferencing was a fantastic experience. It was our first time producing a virtual conference and our project manager and the rest of their support team was incredible. They clearly had deep experience hosting these types of virtual events and consulted with use every step of the way from marketing best practices to the environment look & feel. The platform is highly customizable and it worked incredibly well on PCs and mobile phones. The feedback from attendees was very positive.
Joanie
Communique Conferencing is extremely responsive, professional and very easy to work with. They make it easy on the customer and are obviously very experienced in their field. We have been thrilled with their work ethic and sense of urgency. A great partner for our needs! Communique even helped with marketing best practices and selling booth sponsor best practices. Visually the platform is the best that we found. The booths are highly interactive and mimics the physical experience of attending a conference.