Target Hosts Employee Virtual Benefits Fair
Target Hosts Annual Virtual Benefits Fair to Educates Employees During Annual Enrollment
Industry: Retail
Solution: Virtual Benefits Fair Platform
Summary: Target Corporation Target is a general merchandise retailer with stores in all 50 U.S. states and the District of Columbia. It is the seventh largest retailer in the United States, and a component of the S&P 500 Index. Target was established as the discount division of Dayton's department store of Minneapolis in 1962.
Challenge: Communicating annual benefits options to geographically dispersed staff throughout 1,948 stores, 51 supply chain facilities, and 28 office locations across the US.
Target's benefits team was challenged with helping staff decide the right plan, provider, and price for the year ahead.
Target chose Communique to design and deliver leading edge virtual benefits fair that could address these issues.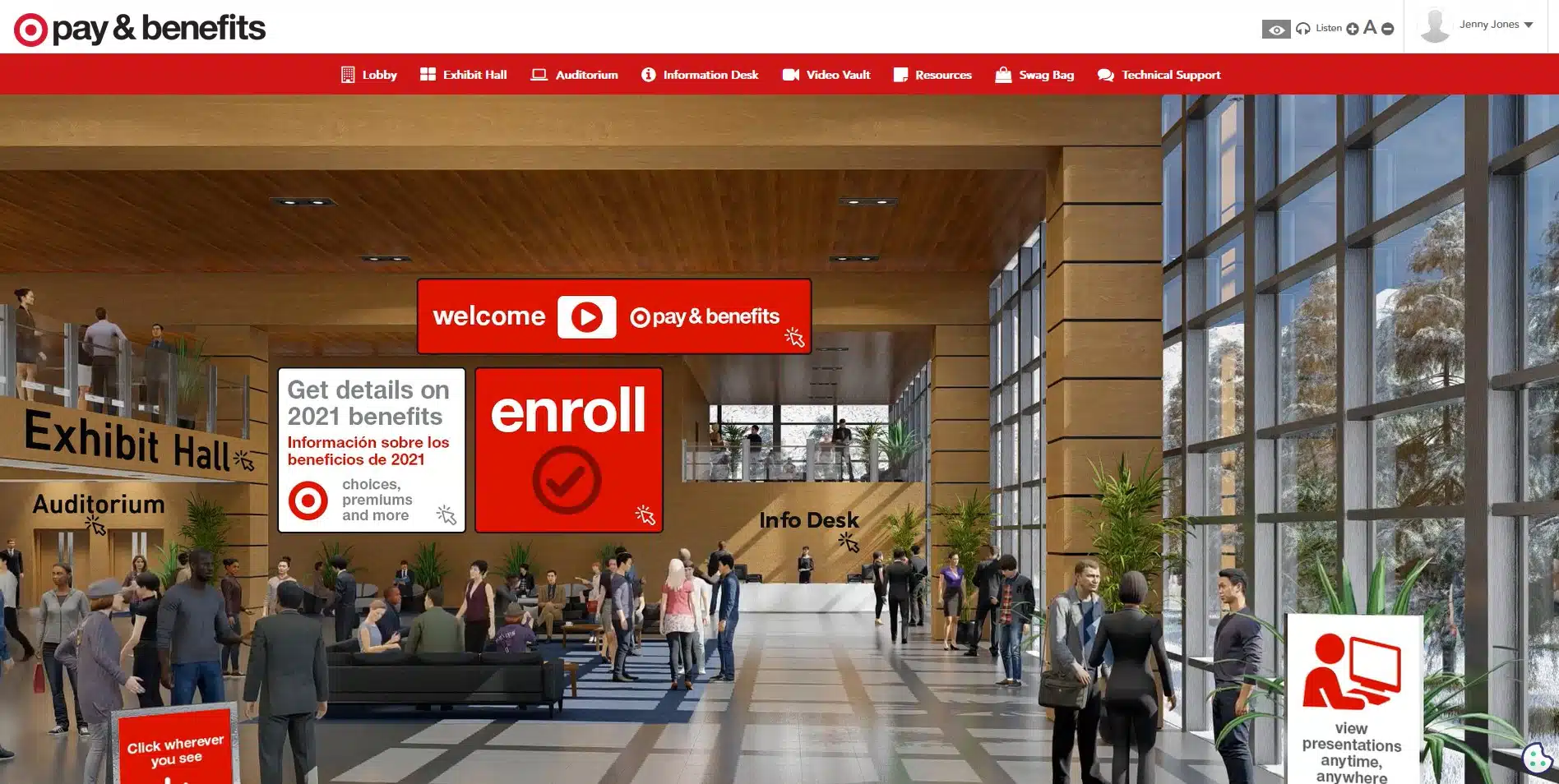 Solution: 
The virtual benefit fair provided staff with tools and resources to make critical health, wellness, and financial plan decisions for the upcoming year. enabled meeting with employees (and their partners) from any location. As such, the virtual benefits fair was delivered through a central online hub. Attendees could explore the virtual experience at their convenience so they did not have to take a lot of time off from work. And spouses can also participate from home.
Staff were able to visit virtual provider booths to access resources and communicate with provider reps during live days. Target also hosted live sessions to educate staff on plan comparisons, mental health resources, and general plan changes. The virtual experience is available on-demand for for the rest of the year so that new and existing staff can continue to access tools and resources.
The virtual 'briefcase' enabled guests to save content located throughout the virtual environment into one location and download for later referencing.
Two surveys were included in the virtual environment. The first survey was a knowledge test. This was to ensure that staff understood the benefits. If staff wished to add points to their wellness program, the quiz was mandatory. It was a difficult quiz and attendees could take it multiple times, however, they would only earn points once.
The second was a general benefits survey. This was to understand their staff demographics and how they would like to be communicated with in the future. Collecting this helps Target in future internal communication plans.
"Employee benefits are critical for attracting talent and driving retention. Communique's virtual benefits fair platform has great customization ability and is easy-to-use. The feedback from our employees and the sponsor providers was very positive. " – Aaron Reynolds – Benefits Manager
Benefits Fair Promo Video
Results: Engaging employees across the US about benefit plans and options
This year, in order to drive people to their event, and to track staff movements across the virtual platform the HR team incentivized actions. Guests earned wellness points for their participation. For instance, visiting different booths, or  listening to the opening program webinar etc. These points turned into Health Savings Accounts dollars.
Even taking the Benefits Knowledge Check quiz and Benefits Survey earned attendees valuable points to add to their wellness program.
The HR team deemed the 2023 open enrollment a success. Success was measured based on how many people came back to them. The biggest selling feature in this year's fair was the tying up of activities with wellness points. This encouraged staff to explore more virtual ground, and successfully drove staff to the vendor booths. The two surveys, on the other hand ensured people understood the plans, and were not just signing up for them.
"At Target, we foster a culture where we can care, grow and win together. We invest in our team by giving them opportunities to grow professionally, take care of themselves, each other and their families and make a difference for Target guests and their communities. Communiqué's support team helped us every step-of-the-way setting up an engaging and visually appealing virtual environment." – Brad Bordson – Benefits Manager
Ready to Host Epic Virtual Benefits or Health Fairs?
Leverage Our 22 Years of Experience and Two Highly Customizable and Engaging Virtual Event Platform Options.