The Metaverse – What Does it Mean for Events?
We've all spent months thinking about what virtual events and hybrid events are and how they should be delivered. The next question in 2022 is how the Metaverse will impact the events industry.
Facebook sparked public interest in the idea of the metaverse when it was recently rebranded to Meta. This transition comes as more and more people are embracing virtual spaces. Due to the pandemic, in-person interactions and events are on a decline. Remote work culture is taking root. And games like Fortnite are hosting in-game events with real audiences.
For brands and businesses, now is the right time to understand the implications of the metaverse. This future iteration of the internet will radically change how we interact, do business, attend events, and even live everyday lives. And like every transition, it will come with its challenges and opportunities.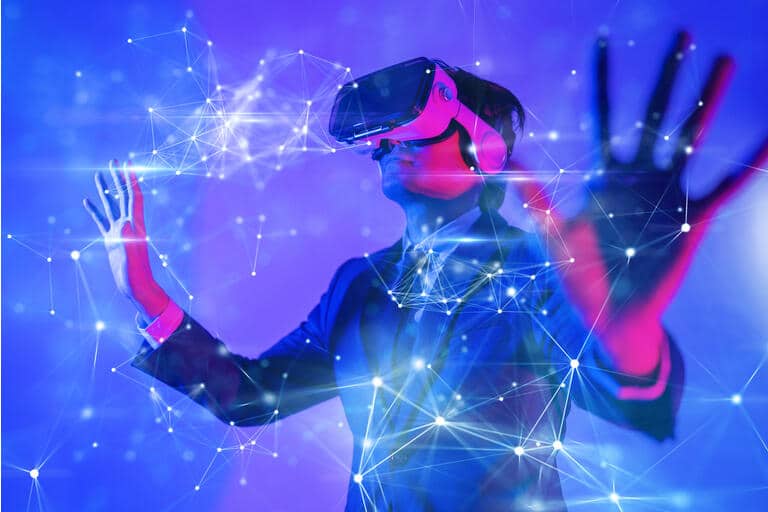 What is the Metaverse?
The metaverse is the next iteration of the internet. The metaverse is a network of 3D virtual worlds focused on social connection that is facilitated by the use of virtual and augmented reality headsets that offer a 360-degree view vs. watching it on your screen..
The Metaverse is a space and time where the "avatars" (the digital representations of people), will interact at work and play. It is the place where the people will meet in their "new" office in the new version of the "Internet". However, it is also the place where people will enjoy a new way to experience concerts, events, and in the future, everything about daily life.
Supporters of the metaverse envision its users working, playing and staying connected with friends through everything from concerts and conferences to virtual trips around to the world.
Games like Fortnite and Minecraft are early examples of the metaverse spaces. You can create an avatar and then interact with the virtual world of these games in real-time. You can meet other real people, represented by avatars, engage in conversations, form teams, and do so much more.
The only difference is that (a) these games are currently 2D virtual worlds viewed from a computer screen. VR and augmented reality headsets are all set to turn such 2D spaces into 3D environments. (b) currently the users avatar, clothing, and possessions are only available within each game. The Metaverse will be part of web 3.0 where everything is connected like the internet. Users will be able to transfer their avatar, clothing, and possession, from one 3D environment or real estate to another.
Who is Building the Metaverse?
The Metaverse is a complex digital environment that relies on seven distinct layers (suggested by Jon Radoff, author of Building the Metaverse blog):
Infrastructure – Connectivity technologies like 5G, Wi-Fi, cloud, and hi-tech materials like GPUs.
Human interface – VR headsets, AR glasses, haptics, and other technologies users will leverage to join the metaverse.
Decentralisation – Blockchain, artificial intelligence, edge computing, and other tools of democratisation.
Spatial computing – 3D visualisation and modelling frameworks
Creator economy – An assortment of design tools, digital assets, and e-commerce establishments
Discovery – The content engine driving engagement, including ads, social media, ratings, reviews, etc.
Experiences – VR equivalents of digital apps for gaming, events, work, shopping, etc.
There are currently 160+ companies operating across these seven verticals, and they are together building the metaverse including Facebook, Microsoft, Nvidia, and Apple.
No one company will own the Metaverse. It will be an open-source environment like the current internet. Users can contribute and change the Metaverse by adding new virtual buildings or other objects and importantly, the changes remain in place next time you visit. You might be able to take up residence and own a bit of it. The metaverse will rely on your user-generated content – your digital creations and personal stories – in the same way social media does today.
What Can you do in the Metaverse?
Your avatar is the touchpoint between you and the metaverse. You can interact with the virtual 3D world as this avatar which is your digital identity. As this avatar, you can meet other people, play games, form friendships, purchase virtual stuff with virtual currency, collaborate, learn, and even attend events such as concerts.
We caught a glimpse of this potential of the metaverse back in April 2020 when Travis Scott organized a virtual concert in Fortnite. He performed as an avatar at this event which took place at a virtual beach within the game's landscape. More than 12 million players attended the concert as their in-game avatars.
As metaverse evolves, it will be possible to organize such events with a fully immersive three-dimensional participation for the attendees.
Metaverse – Impacts on Businesses
The metaverse is all set to revolutionize the way businesses operate and interact with customers. It has far-reaching consequences for enterprise entities as well as small and medium businesses. Here are some ways the metaverse is expected to impact businesses:
– Remote Work Culture: As virtual interactions become more collaborative, realistic, and immersive, in-office work may become completely redundant. Employees could meet, discuss, create, and interact in the 3D metaverse spaces. This can have a huge impact on workspaces.
– Reduced Operational Costs: With the rise of the remote work culture, the metaverse can help businesses cut down on operational costs. Instead of setting up a brick-and-mortar office, a business can create unlimited virtual rooms, offices, and venues at no additional costs.
– Better Workflow: Microsoft's Digital Twin vision of the metaverse aims to improve the actual world through virtual simulations and extended reality experiences. Businesses are already implementing this vision to improve process quality and workflow by using digital models of their operations.
– 3D Virtual Locations: In the metaverse, a business can have a permanent virtual location and address. Customers can walk into this location, check out the products or services on offer, and make purchases.
– Digital Products: The metaverse is creating a demand for virtual products and showrooms such as virtual cars, homes, dresses, and more. This may translate into new opportunities and sales avenues for businesses.
Metaverse – Impacts on the Events Industry
One of the key areas that will be affected by the metaverse is the events industry. Events like Travis Scott's virtual concert are examples of how the virtual world is already changing this industry. Immersive virtual experiences open up a world of opportunities and possibilities for event organizers and businesses. Here is a look at how this future will impact events in general.
Reach
One of the most significant implications of the metaverse is greater reach. Anyone with the proper hardware can join a virtual event in the metaverse. As technology evolves, attendees will be able to access a virtual, 3D event right from their laptop or mobile device.
At the same time, there is no limit on the number of participants. This translates into opportunities for unlimited scalability, allowing you to invite as many attendees as you like. Such unprecedented reach can be a game-changer for the events industry.
Enhanced Virtual Events
Most of the current 3D virtual event platforms are merely 3D images of spaces added to two dimensional (2D) environments.
As 3D digital spaces are a major component of the metaverse, virtual events leveraging the metaverse will be more immersive and engaging. Rather than a series of streamed presentations and Zoom calls, virtual events can offer a highly customized space for attendees to explore and interact. This can mimic the experience of going to an event, and lead to more spontaneity for the attendee. In addition, there is so much more potential than recreating the experience of going to an expo hall. Virtual 3D spaces can give an event a unique presentation that would be impossible just through video streaming or with budget constraints if done in the real world. A 60-foot-tall Ariana Grande performance would be out of scope of most budgets. But it happened in her wildly popular Fortnite concert. With the metaverse, brands have the chance to wildly redefine how fans experience their events.
Monetization via NFTs as Social Currency
NFTs have been increasingly popular lately, primarily due to digital art selling for huge price tags. But that is just one use for a non-fungible token. Another use for NFTs is for event tickets or as proof of attendance. This can be useful for events in several different ways. First, it provides a secure, decentralized way to prevent tickets from being counterfeited. NFTs can also act as social currency and a way for people to connect. An event in the Metaverse could have a special area or lounge for VIP or past attendees, accessed through showing a special NFT.
Organizers can also generate revenue by creating tiered access levels for the participants. Digital products or giveaways can be offered to attendees such as badges, avatar upgrades, virtual files or tokens, and other goodies.
You can even create digital simulations or showrooms of real-world products or services. The attendees at an event may interact with these offerings in the virtual world and then decide whether or not they want to make a purchase.
Data for Analytics
Virtual metaverse events will create a treasure-trove of useful data. You can gather data about audience interactions, behaviors, purchases, engagement levels, and so on. It is then up to you to process this data and develop insights from it.
Sponsors can also benefit from this data and deliver tailored attendee experiences for better return-on-investment. Brands can access this data to find better ways to market their offerings.
Opportunities for Brands
Many brands have hit the metaverse bandwagon with varying success. Some have successfully engaged millions of players in games like Animal Crossing. Others are yet to see whether their efforts have been fruitful.
In general, brands need to optimize and tailor their efforts to the unique dynamics of virtual reality spaces. Only by being relatable to the environment and participants of the metaverse can the brands unlock relevant opportunities.
Here is a look at some of these opportunities, and how certain brands are already making the most of them.
Interactive Events
In the metaverse, participants do not simply attend the events but also shape them. This is similar to gameplay. Players are not mere spectators but also perform various activities in the game, changing it along the way.
Brands can bring together similar events and campaigns in the metaverse. With no limit on the number of participants and environmental design elements, creativity is the way to go.
Example: Unilever created its own island in the game Animal Crossing. The company invited players to drop off spoiled turnips at this island. For each drop-off, the company promised to make a real donation to a Canadian charity.
Example: The Fast Food chain Wendy created its own in-game character in Fortnite. This character engaged in the gameplay to destroy frozen beef stored in the in-game restaurants. Wendy aimed to highlight its fresh and never-frozen beef, and market it to the game's audience at the same time. The marketing stunt was an immense success.
Direct-to-Avatar Marketing
A new area of marketing for brands is opening up, thanks to the metaverse. Known as direct-to-avatar (D2A) marketing, it involves attracting and engaging avatars in games like Fortnite.  Brands are marketing virtual goods to the tens of millions of players in these games. In some cases, virtual offerings are complemented with real-world coupons and codes.
Example: Food delivery company Deliveroo used virtual riders to deliver treats to Animal Crossing players. These in-game deliveries also included promo codes that the players could redeem in the real world for actual discounts.
Virtual Real Estate
Many brands are creating virtual real estate to tap into the potential of the metaverse. Such real estate can be a virtual shop, a store, an island, or an entire map. The brands can market this location to the avatars in that particular virtual space. Some brands have seen immense success with this strategy.
Example: Verizon recreated the Super Bowl Stadium inside Fortnite as an example of virtual real estate. The company also engaged NFL players and brought their avatars to this stadium.
Brands and Metaverse
As noted above, brands like Unilever, Gucci, Coca-Cola, and Louis Vuitton are already targeting virtual audiences in games like Fortnite, Animal Crossing, and Roblox. Many of these brands have seen unprecedented reach and engagement through these virtual marketing efforts.
Lifestyle brands are particularly well-poised to make the most of the virtual space, especially in the D2A niche. They are also expected to be a natural fit in the metaverse.
Brands like Gucci are offering unique collectibles which help in-game avatars upgrade their outlook. The sales of such digital goods are expected to rise as the metaverse avatars continue to seek upgrades.
When Will the Metaverse be Available?
Facebook, Microsoft, Epic Games (creator of Fortnite), Apple, and many other technology companies are actively working on the metaverse. This involves creating the necessary hardware, creating virtual spaces, making metaverse accessible, and improving connectivity speeds.
The recent pandemic has paced up the development of the metaverse. And this pace is expected to gain momentum as virtual spaces become ever more popular. It is estimated that the metaverse will go mainstream within the next 5 to 10 years.
However, we can expect individual components of the metaverse to be here before that. Some of these components, such as virtual events and campaigns in games like Fortnite, are already here.
The future of live events, that previously took a turn to hybrid, a bridge between virtual and physical worlds to connect people. Now it is on to the next phase – the metaverse.
Fundamentally, events are about connecting people and fostering communities. Whether it's an industry event meant to connect and educate people in the same field, or an event that draws fans of a performer, events are a chance to bring people together and build strong communities.
Ultimately, the metaverse and blockchain technologies have enormous potential to transform the event industry and provide new ways to connect and engage attendees.
Communique is already helping clients leverage the Metaverse in two ways:
3D, fully immersive, Metaverse virtual event platform with custom avatars
Create a 24/7/365 branded Metaverse corporate office or campus to showcase your solutions and host events
Ready to Host Epic Virtual or Hybrid Events?


Don't settle for mediocre event technology & support. Our event cloud virtual & hybrid event platform can help you host epic events of all kinds - from conferences to trade shows, career fairs to internal events, and more.