The Secret to Successful and Engaging Virtual Events
The Secret to Engaging Virtual Events
As events continue to move online via virtual event platforms, event organizers often struggle with planning and executing a virtual event that is creative, entertaining, and engaging. There is much that you can do at an in-person event to evoke an emotional attachment. However, it is much harder to accomplish this with a virtual conference, which the attendees are joining online from their home or office. The pandemic is also adding to the problem by causing video fatigue.
A recent Event Managers Blog survey laments lack of attendee engagement as the biggest challenge with virtual events. Half the blame can be a poor choice of a virtual event platform. On the other hand, the platform can be amazing, but if the presentations link to a boring Zoom or Vimeo talking head with slides the attendees will not be engaged or entertained.
If you design boring events, don't expect tech to do miracles.
Typically, physical events are deemed creative because of their visual elements (exotic staging, lighting, etc.), which does not translate as-is to a virtual conference. The change of venue to online, with attendees joining from remote locations using a computer or mobile device, requires a different approach. You can't keep the same format of in-person events for remote events; it simply doesn't work.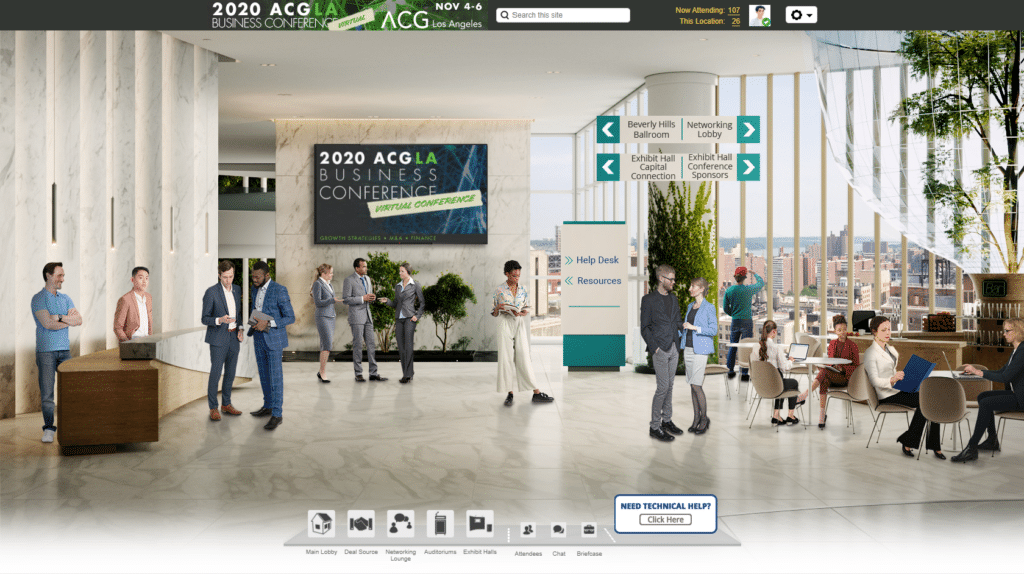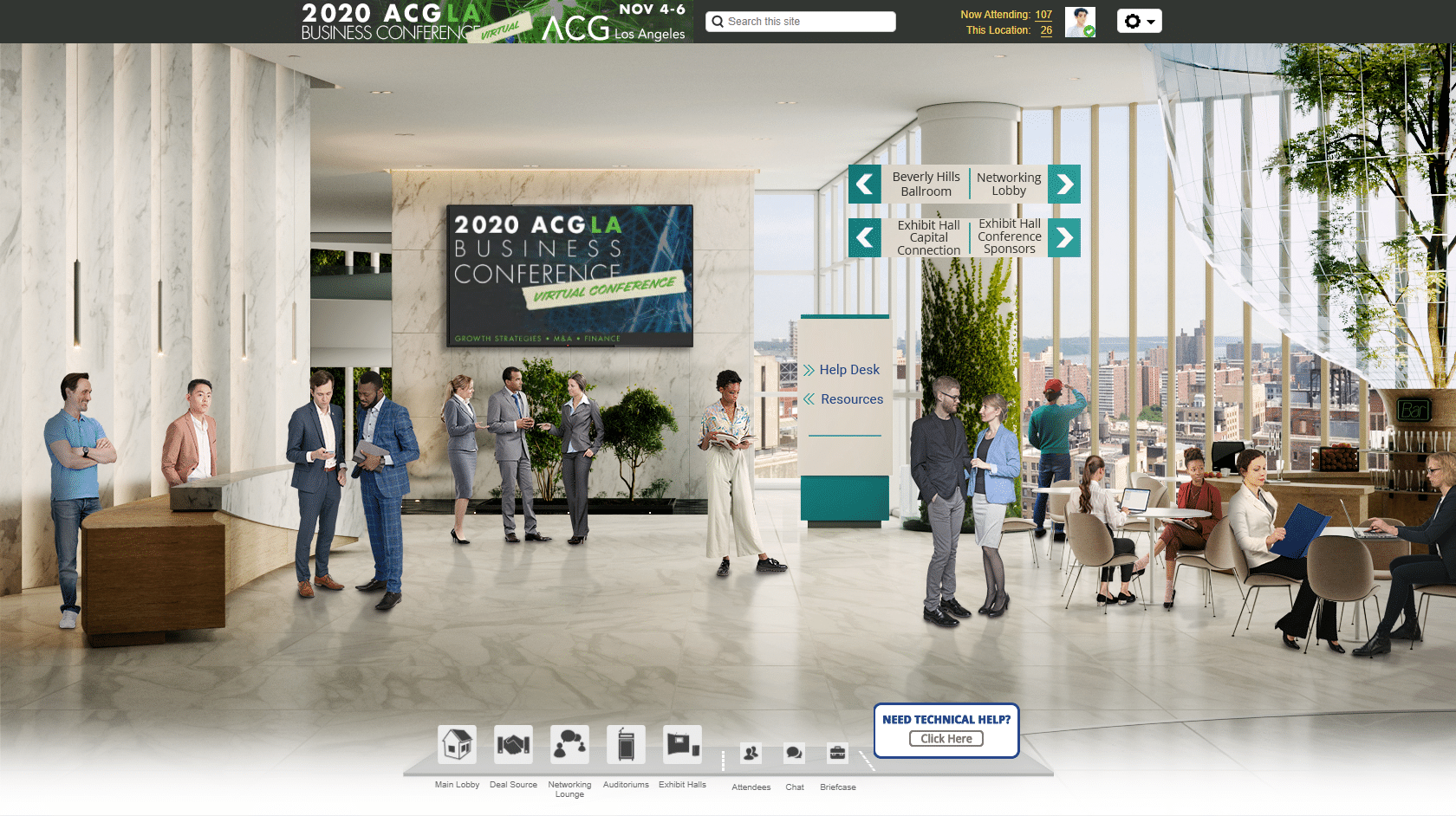 Think of the entire event from your attendees' perspective. Also think about the time and effort it takes to set up a physical event in a ballroom or other bricks-and-mortar venue. Mapping out the attendees' journey and creating an engaging experience is key. You'd spend time on nailing the décor, staging, lighting, linens, music, signage, and much more.
With a virtual event, even more thought needs to go into the attendees' journey. The number one element of a virtual event to focus on most are the webcast sessions. Event hosts need to move away from the boring Zoom style "talking head with a slideshow" model. Organizers can make webinars more attractive and entertaining with a more creative approach, even if it means the webinar is prerecorded and creatively produced with exciting graphics and music rather than live. Offer a variety of session formats and lengths broken into tracks for easy access. Next, weave in exhibitors and sponsors throughout the experience (short breaks between sessions to explore), including via a dynamic virtual trade show floor. Make sure to enable attendees to navigate and connect with each other freely, just like at a face-to-face reception, and join in on the various games and activities held in different rooms. Finally, incorporate surprise and delight elements such as a virtual photo booth.
All of this is part neuropsychology, part marketing, part sponsorship, and part magic! Your goal for a virtual conference is to have the attendee touch their keyboard at least every three to four minutes. If you get this right, you secure sponsors and keep attendees committed and actively engaged.
To tackle the problem, let's first break down the core components of a virtual event:
Presentations:

Plenary session (or plenary)—the part of the meeting or conference that everyone attends. For example, at a conference, the opening keynote may be considered a plenary session, since everyone is expected to attend, and it is the only event on the conference schedule at that time.
Breakout sessions—small collaborative sessions with two-way audio and/or video between attendees and speakers.

Exhibit hall with booths
Networking/connections: There are three variations of attendee networking.

Attendee-to-attendee
Attendee-to-organizer
Attendee-to-sponsor
Next, leverage the virtual conference platform, just like you'd leverage a physical event space, to place all of the above core components into an online virtual environment that:
Is visually appealing:
Conveys the event brand – If it's a bicycling and outdoor sports festival, create an environment to convey this for the attendees vs. simply using a corporate building lobby.
Can be navigated easily/intuitively – Do not overdo it with too many rooms and spaces. Simple is better online.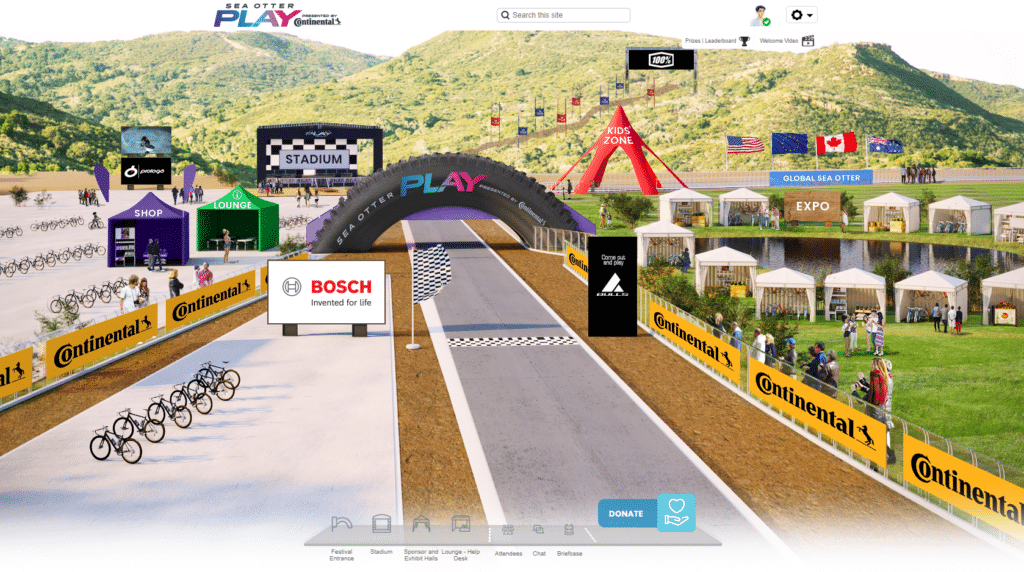 Facilitates engagement—Attendee engagement is an emotional involvement or commitment by an audience at a meeting. The ROI of an engaged attendee is simple: participants who are emotionally involved get more out of the event. They learn and retain more. They are more interactive. They bring out more in others. They will rate the event higher and will be more likely to return in future years—while encouraging others to do so as well. Virtual event engagement needed to be highly guided. It does not happen on its own.
Presentations:
Visually appealing
Use a webinar technology that allows customization of the webinar console for consistent branding.
Adding helpful custom components such as speaker bios, links to downloadable resources, social media share, etc.
Simulated live webinars allow organizers to edit and add intro videos and visually appealing graphics, like a CNN talk show.

Engaging

Successful event organizers spend time and money on webinar session production. Virtual events might avoid costs around hotel rooms, F&B, and travel, but using technology platforms, recording speakers, and editing presentations require a significant investment. Event organizers should be looking at YouTube and live TV for inspiration and ideas for producing engaging video. Event hosts need to move away from the "talking head with a slideshow" model. Organizers can make webinars more attractive and entertaining with a more creative approach, even if it means the webinar is prerecorded rather than live. Holding people's attention on a computer screen for 30 minutes or more is difficult, so anything that can make the experience more appealing and entertaining goes a long way.
Q&A: Have your speakers pause during presentations and prompt the audience for their questions.If possible, use public chat for questions and comments vs. private Q&A. This way attendees see the engagement from their peers, which increases overall participation.
Use surveys and polls to directly engage attendees, giving immediate feedback to their thoughts.
Shorter agendas are better for online events. Some events try to fill full days, and this is simply too long. Full-day conferences are fine (and expected) when they are in person, but it is impossible to sit in front of a computer all day for a virtual conference.
Great virtual events include breaks at regular intervals (five minutes between sessions to explore and network), like those you would expect from an in-person event.
Exhibit Hall with Booths
Visually Appealing

Exhibit Hall – Choose an exhibit hall design that helps attendees find what they need fast. If you have a small number of booths, a simple scrolling exhibit hall will do. However, if you have a large number of booths, either add a pavilion menu that breaks the booths into easy-to-find categories or use multiple exhibit halls.
Booths – Don't just use plain booth templates with boring text signs like "resources."
Customize the booth design to reflect your brand and appeal to your attendees.
Organize content by attendee persona.
| | |
| --- | --- |
| Plain Booth Template | Customized Booth |
| | |
Engaging

Once you create a visually appealing booth to get them in the door, connect with attendees by adding engagement elements.

Use gamification to encourage attendees to visit booths and take desired actions.
Arm your booth reps with a script to use for proactive chat engagements.
Include contact forms for on-demand days.
Add one-click calls-to-action (e.g., newsletter sign-up, prize, demo request).
Networking
Visually Appealing

Make sure that your virtual conference environment offers the ability for attendees to search and connect with other attendees (chat, email, LinkedIn, etc.). This is typically accomplished by:

Including a link in the header that allows attendees to click from any location to search and engage with other attendees.
Including a networking lounge room as part of the virtual environment.

Engaging: Add signs inside the networking lounge that enable attendees to break out and engage by topic, persona, geographic area, etc.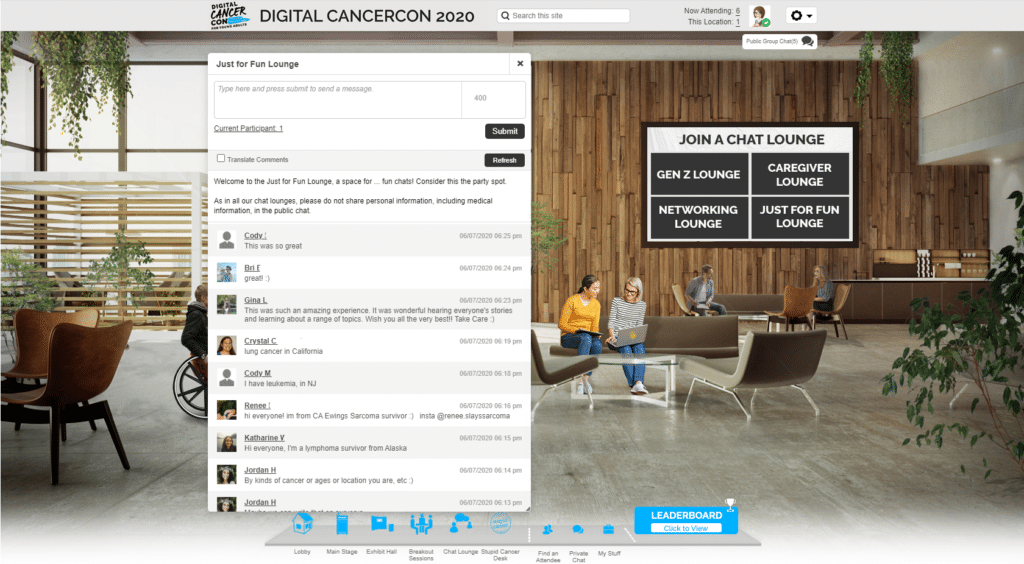 Virtual Environment
Visually Appealing: Design the environment to reflect your virtual events brand and theme similar to how you'd design a physical event space.
Engaging:

Consider sending an intro tutorial video to attendees, explaining how to use the platform in advance.
Social walls allow an event organizer to display the real-time social activity at an event (tweets, Instagram posts, etc.).
Include a virtual photo booth to add an element of fun and encourage social media shares.
Give attendees a gift: Pre-populate the attendees briefcase with custom Zoom and mobile phone backgrounds that they can download and use.
2020 has proven that virtual events are not only a powerful way for organizations to connect, but that they can also be profitable and drive results. To stay competitive in your industry segment, organizers should start exploring how digital events support their objectives for long-term success.
As face-to-face meetings resume, digital and hybrid events will continue to play a strong role in a successful event portfolio. The NFL was highly successful for years solely hosting games at stadiums with up to 100,000 attendees. Then, the NFL learned they could reach millions of viewers through TV broadcasts (hybrid event).
As more attendees participate in virtual events, it will become clear which organizations did the bare minimum vs. organizations that put time, money, and effort into producing and curating an exciting and engaging virtual attendee experience.
The virtual conference platform is just the venue to host an event. It's the organizer's job to carefully curate a successful attendee experience with plenty of useful content and engaging sessions.