Virtual Event Benchmarks and Insights for 2021
Many clients ask us for virtual event benchmarks and trends data for things like attendance rate. We pulled together data from over 1,200 virtual events hosted in the last 12 months to provide you with key trends and virtual event statistics.
Virtual events became a critical tool in 2020, enabling organizations to engage with their internal and external audiences globally. In fact, demand for Communique's virtual  event platform and services grew 418% in 2020.
As we look ahead hybrid events, creating a virtual component to a physical event, will be a necessity in 2021 and beyond.
Download our 2020 Benchmark Report to learn about recent trends and best practices for Virtual Events and Webinars. You'll gain actionable insights on planning, marketing, and hosting an engaging virtual event experience.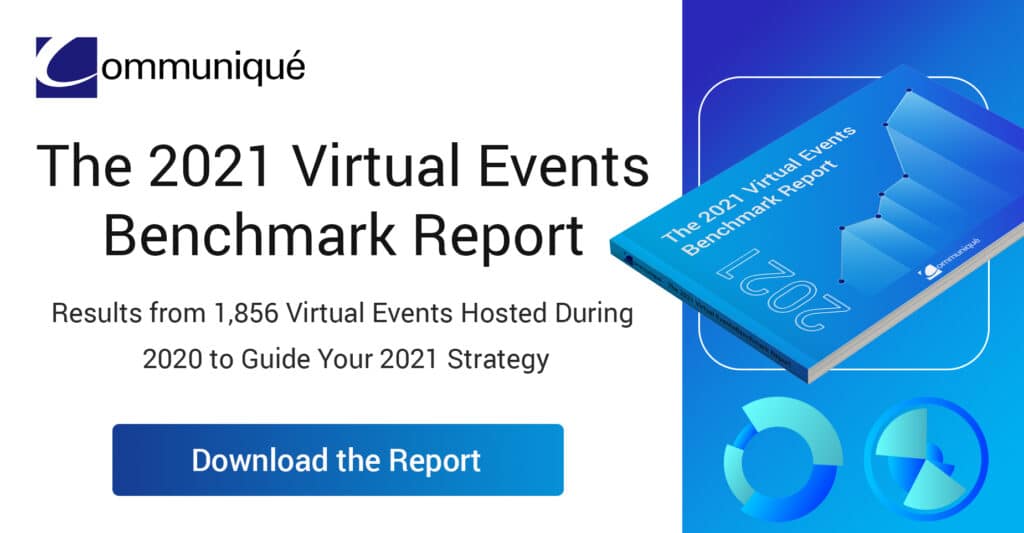 Highlights include:
1. 47% of Virtual Event Registrants Attend Live
Virtual event organizers are seeing a high average event conversion rate (47%) from attendees who registered vs. attendees who actually attended the live virtual event. The Average Number of Virtual Event Attendees was 1,849 and there was an average of 10,953 content views.

2. The Average Live Day Attendee Duration is 2:10:56
The promising average duration number suggests remote audiences are eager to engage in virtual experiences. The average duration spend by on-demand attendees is significantly lower at 0:61:34 suggesting that live components with engagement (webinars, booth rep chat, networking, games/prizes) are key drivers to retention.

3. The Average Number of Webinar Sessions for a Virtual Event is 27
Virtual Conferences give hosts the opportunity to create a branded environment filled with webinar sessions, content, and engagement features to help attendees learn, connect, and engage from any location or device. In 2020 the average number of webinars per virtual event was 27. Further, 74% of  Webinars included video vs. 38% in 2019. Speakers are becoming more comfortable hosting video webcasts. Broadcast-level quality (TV & YouTube) and production is critical to engagement and retention.
4. 79% of Virtual Events are Free
While most virtual events were free for attendees, that doesn't necessarily mean that paid virtual events are going away or getting any cheaper. In fact, paid virtual registrations and sponsorships create ample opportunities for event planners to create innovative pricing models for their virtual events. The average price for a paid virtual event in 2020 was $426.
5. Tuesday Through Thursday are the Most Popular Days to Host Virtual Events
The results for virtual events matches the results for webinars when it comes to the most popular days of the week to host virtual events. In addition, the majority of virtual events are 1-3 days long and under four hours duration per day.
We hope this data will better guide virtual event organizers with best practices and lessons learned to help design the right agenda, technology, content and engagement. Attendee experience is key to successful virtual events.
Ready to Host Epic Virtual or Hybrid Events?


Don't settle for mediocre event technology & support. Our event cloud virtual & hybrid event platform can help you host epic events of all kinds - from conferences to trade shows, career fairs to internal events, and more.