How to Make Virtual Events Engaging
Are you curious how to make virtual events engaging? There is nothing like the energy stimulated by in-person events from the crowd's applause during sessions. Organizers that pivot to virtual or hybrid events often struggle with stimulating that same type of audience energy.
Virtual event platforms are riddled with attendee engagement and interactive features. However, it is up to the organizer to create an agenda that keeps their attention and curates an engaging and interactive experience from beginning to end.


How Do You Keep Attendees Engaged During Virtual Events?
Think of the virtual event platform not only as a tool but as a medium, and we need to add drama to create a noteworthy experience. The attendee experience needs to rise up to a climax and climb back down like a theatrical arc.
One difference between in-person and virtual events is that it's more difficult to get energy from your audience and capture their attention.
1) Optimize the Agenda for a Virtual Format

It's not the platform. It's the experience. You have to start with the goal. What are you trying to accomplish? An event for 3,000 people doesn't need a high level of personalization. On the other hand, an event for your top 300 clients around the globe? You better make it high-value to each and every person. If you do, they'll spend what it takes, even in a virtual environment.
Curate and customize experiences. We all have different learning styles. By discovering how your guests prefer to gather, process, and analyze information, you can tailor experiences to fit. Some people like joining interactive sessions or participating in collective gatherings to solve problems. Some like sessions that happen outside the breakout room, such as walk-and-talks. Some like connecting with others or the thrill of spontaneity and the unexpected. Others are community focused. The more you know your audience, the better you can customize an agenda and experience that appeals to them.
Keep the overall agenda less than four hours per day. Screen fatigue is a real issue.
In general, we suggest minimizing the time spent on keynote and general sessions and allow ample time for Q&A, group discussions, and workshops.
Shorten sessions to 30 minutes or less.
Make sure to schedule "heavier" content at the beginning of the meeting event. But, on the other hand, save the best for last.
Sprinkle in networking, smaller breakout discussions, exhibit hall time, wellness breaks, etc. between sessions vs. making virtual attendees sit and watch sessions back-to-back.
2) Set Expectations
This is perhaps the most important strategy that must be incorporated into any virtual event–setting expectations upfront. Doing this early on in the meeting/presentation is essential. Inform attendees how they should engage, what tools they will be using, and what the expectation is for interaction. An example of an opening script may look something like this:
"Welcome to the XYZ Meeting! We want this to be as interactive and engaging as possible. To facilitate this, we are going to be using the chat area extensively. So, to make sure we all know how to do this, click on the [insert instructions for accessing chat on your meeting platform] and type in [insert a question that has a one-or-two-word response, such as, "Where are you joining us from today?
Next, as the responses start to come in, repeat the instructions for where/how to find the chat, and then also repeat the question. Then, comment on a handful of responses that come in. Consider giving out the "fastest on the keyboard" award to whichever attendee was first to respond.
By calling our participants by name–not everyone, just a few–it builds a sense of community and lets everyone know that they're live, they're in this together, and it's a shared experience where they can be recognized at any given point in time.
Organizers should similarly set the stage for any other engagement set up throughout the other portions of the virtual event.
3) Making Virtual Event Presentations Engaging
Some attendees take a full minute to find the chat and type out their response to session questions.
To mitigate this from happening, set the stage for "Quick Chat" questions. These are one-or-two word, or one-letter, responses that attendees can type in quickly. This increases the virtual energy during the session while the speaker receives immediate engagement feedback from the audience. One example "Quick Chat" strategy is the Y/N Chat.
"Alright everyone get ready to type in the chat area. I just mentioned that the majority of our communication is nonverbal. Please type in "Y" for Yes or "N" for No to this question: Do you drink coffee?"
Note in that example that the point is to set the stage, informing attendees what to get ready to do, and then I make it a one-character answer, so responses can come in quickly. The next part of the magic is to do some repetition.
"Again, type in "Y" for Yes or "N" for No into the chat–do you drink coffee?"
Then repeat the question at least once so everyone can catch up on responses. After, comment on the responses.
"I see the majority of you are saying that yes, you drink coffee. I hope that means that everyone is awake and alert! Stay away from the decaf!"
4) Encourage Virtual Applause
It can be really frustrating, as an attendee, to not have any way to show appreciation to a virtual speaker other than to type in a "thank you" note into the chat area.
Set the stage at the beginning of each session by instructing attendees to either use the clapping emoji (if the virtual event platform offers this option) or a simple applause indicator such as typing in exclamation marks.
"Now, before I bring the first speaker onto the virtual stage, I know, if we were in person, that we'd be all giving a rousing applause right now.  Now we can't all unmute at the same moment to applaud, because that would just be a disaster! So let me give you all a way to show appreciation as applause, or at any point in our conference experience when you hear something that you really appreciate or agree with. Go into chat right now and give me a rousing applause by entering in exclamation marks–that's right–exclamation marks in chat will signify applause in today's virtual setting."
Do this and watch the magic unfold. Seriously. In seconds, hundreds of "!!!!!!" will populate in the chat screen. attendees will see other attendee names, and you will cultivate a dynamic source of energy in the virtual environment. You'll now have the audience engaged!
Pro Tip: Make sure the webinar platform supports emoji's.
5) Engage Attendees Before and After the Virtual Event Too!
Virtual event engagement shouldn't start and stop with your live days. To optimize engagement, engage attendees from the moment they register to weeks after the event has ended. In the pre-event phase, this can involve an email drip campaign, early access to the virtual environment, and a variety of asynchronous engagement activities. This can include things like discussion forums, competitions and games, review of pre-reading materials such as slide decks and videos, having the opportunity to sign up for workshops and networking, among many other things.
After the virtual event, continue to engage the attendees by disseminating surveys, speaker follow-ups to Q&A, recorded presentations, information on upcoming events, and bite-able content pieces from the event. Virtual environments can also stay open for a set period of time to allow all registrants to access on-demand recordings, contribute to asynchronous discussion forums, and continue networking.
6) Add Gamification With a Live Leaderboard

Encourage participation and engagement by setting up competitions and award prizes. Depending on your chosen virtual event platform, most or all aspects of your event can be gamified, including booth visits, networking, session attendance (and how long), breakouts, and more. Adding leaderboards with awards and prizes can help encourage attendees to actively participate and engage with as many participants and sponsors as possible.
7) Don't Be Afraid to Mix Things Up
Even with virtual event engagement features, well produced live streams, and built-in networking tools, virtual events still pack a ton of specialized content into a day or two — and this rapid-fire approach can be overwhelming for attendees. While organizers need to prioritize essential sessions and content offers, some fun relaxation time should be incorporated in the virtual event agenda.
For example, hosting a fun, non-work-related icebreaker in the morning can help attendees take a breather before the more intense activities begin. For example, a live entertainer, like a comedian or musical group, can help engage attendees and give them a quick break in their long day at their computer or mobile device.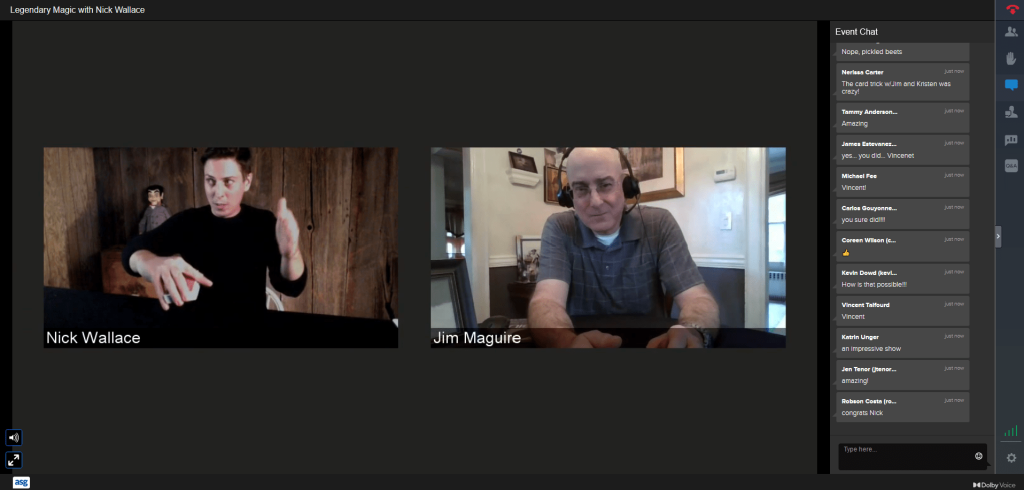 Also, think outside of the box, and don't give attendees all the details ahead of time. Adding a "mystery guest" or "surprise speaker" to the agenda gives everyone something to look forward to and helps recreate the excitement of traditional in-person entertainment.
8) Enable Guests to Create User Generated Content – Incorporate a Virtual Photo Booth
Virtual photo booths (VPB) are sure to give your virtual attendees a feeling of togetherness and keep them engaged throughout your programming. It runs in a web browser and is accessible through a single iFramed URL from a QR code embedded anywhere inside the virtual experience.
Attendees are guided through a simple interface allowing them to take or upload photos from their device that instantly get branded with custom frames, backgrounds, and stickers.
Photo's can be shared via a mosaic photo gallery during the event. In addition, your guests can share photos on Facebook, Instagram, TikTok and any other social media platform which creates significant reach and exposure for your brand or event.
9) Host breakout rooms 
Breakout rooms bring together smaller groups of attendees to discuss various topics.

By matching Guests with common interests, you can increase your virtual event engagement and interaction. Attendees should also have the option of scheduling and joining their own private video chat sessions.
To elevate participation activities, try to incorporate numerous breakout rooms and sessions throughout your virtual event.

In addition, consider setting up breakout rooms for each speaker after the sessions end. This will give the attendees an opportunity to ask questions and discuss the presentation topic in an open forum together.
10) Incorporate Entertainment Surprises

Services such as Teambonding.com provide a variety of entertainment options such as trivia, cooking, mixology, jeopardy, casino, yoga, tasting, etc.
11) Think Community
The event is more than a moment in time; it's part of a process of building community that can stay engaged over time. When you focus on building community, you realize that your attendees are connected with you—and not just during the event. With your new mindset, you find they're plugged in digitally before, during, and after. In a way, technology turns us all into virtual attendees.
People are more open to connecting virtually. You know how it goes at in-person events: People like to hang with people that they know. That sometimes makes it harder to network for the 25 to 40 percent of the population who are introverts. But virtual connection removes a lot of those barriers. It helps you meet new people without the awkward social cliques. We've also found
that there's less small talk. People dive right into the heart of the matter.
Community is as valuable as content

Take a webinar session. The chat box often provides as much helpful information as the presenter. Plus, it gives those sessions a level of energy and pizazz that rivals even the best of live sessions. So look for ways to bring your community to your content.
12) The Power of A.I.
Many virtual event platforms offer Artificial intelligence tools which can help match people with similar preferences and interests. Let's say the AI tracks attendees' choices at the event—where they go, what they do, what sessions they attend, what they click on, what they write. The tool can analyze that data and then introduce that person to, say, 10 other like-minded individuals.
Conclusion
With these three strategies you can make a big difference in the virtual event experiences by enhancing the audience engagement with a little creativity.
Ready to Host Epic Virtual or Hybrid Events?


Don't settle for mediocre event technology & support. Our event cloud virtual & hybrid event platform can help you host epic events of all kinds - from conferences to trade shows, career fairs to internal events, and more.