To get ideas, many event planners want to learn about virtual event examples. Virtual events have become increasingly popular in recent years, especially with the pandemic forcing many events to move online. Here are some real examples of successful virtual events and tips to help you make your virtual events a success.
Netflix's "The Witcher" Virtual Panel
Netflix's virtual panel for "The Witcher" was a huge hit among fans of the series. The panel consisted of the cast and crew of the show, who answered fan questions and provided behind-the-scenes insights. The event was streamed live on the Netflix YouTube channel and was watched by over 500,000 viewers.
Tips and takeaways:
Offer exclusive content that people can't get anywhere else.
Make it interactive by allowing participants to ask questions.
Use live streaming platforms to reach a larger audience.
New York Virtual Fashion Week
New York Fashion Week was held virtually due to the pandemic. The virtual event was accessible to people all over the world, making it a truly global event. The 70-odd designers utilized a platform from CFDA, Runway 360, where people can watch the shows and designers can connect with buyers and customers.
Tips and takeaways:
Use virtual reality technology to create an immersive experience for attendees.
Offer multiple ways for attendees to interact with the event, such as live chat or virtual networking opportunities.
Partner with fashion influencers to promote the event and increase engagement.
Example Virtual Customer Event – Microsoft Ignite

Another virtual event example is Microsoft's annual Ignite technology conference, which typically attracts over 20,000 attendees. After the pandemic, the event has been held online and has been a tremendous success.
At the 2021 Ignite, Microsoft improved upon their prior event by pre-recording the sessions, giving them a far more polished look and feel. The sessions were delivered in a simulive format in which audience members could instantly respond to what they saw using an emoji interface similar to Facebook. The session came across much like an experienced news team does on the air, with insights, comments, and humor that felt professional and far more entertaining.
Since Ignite had a global audience, Microsoft ran the content all night so attendees in different time zones were unable to view the sessions.
Tips and takeaways:
Provide virtual networking opportunities to allow attendees to connect with each other.
Pre-record sessions for a more polished, TV-quality, look and feel.
Use simulive session delivery for live Q&A sessions to allow attendees to ask questions and get answers in real-time.
Example Virtual Job Fair – Flexjobs

FlexJobs, is a job search platform specializing in remote and flexible job listings. The virtual job fair featured companies from a variety of industries, including technology, healthcare, education, and more. Job candidates were able to attend live company presentations, chat directly with recruiters and hiring managers, and submit resumes and cover letters on the spot.
The online format offered several advantages for both candidates and employers. For candidates, it provided a convenient and accessible way to learn about job opportunities and connect with potential employers. They could attend the event from the comfort of their own homes and didn't have to worry about the costs associated with travel and other expenses associated with traditional in-person career fairs.
For employers, the virtual format allowed for a wider reach, as they could connect with candidates from all over the world. Additionally, the virtual format allowed for cost-effective and efficient recruiting, as they could interact with a large number of job seekers in a short amount of time. Overall, the Remote Career Fair by FlexJobs was a successful example of how virtual career fairs can provide a valuable experience for both job seekers and employers.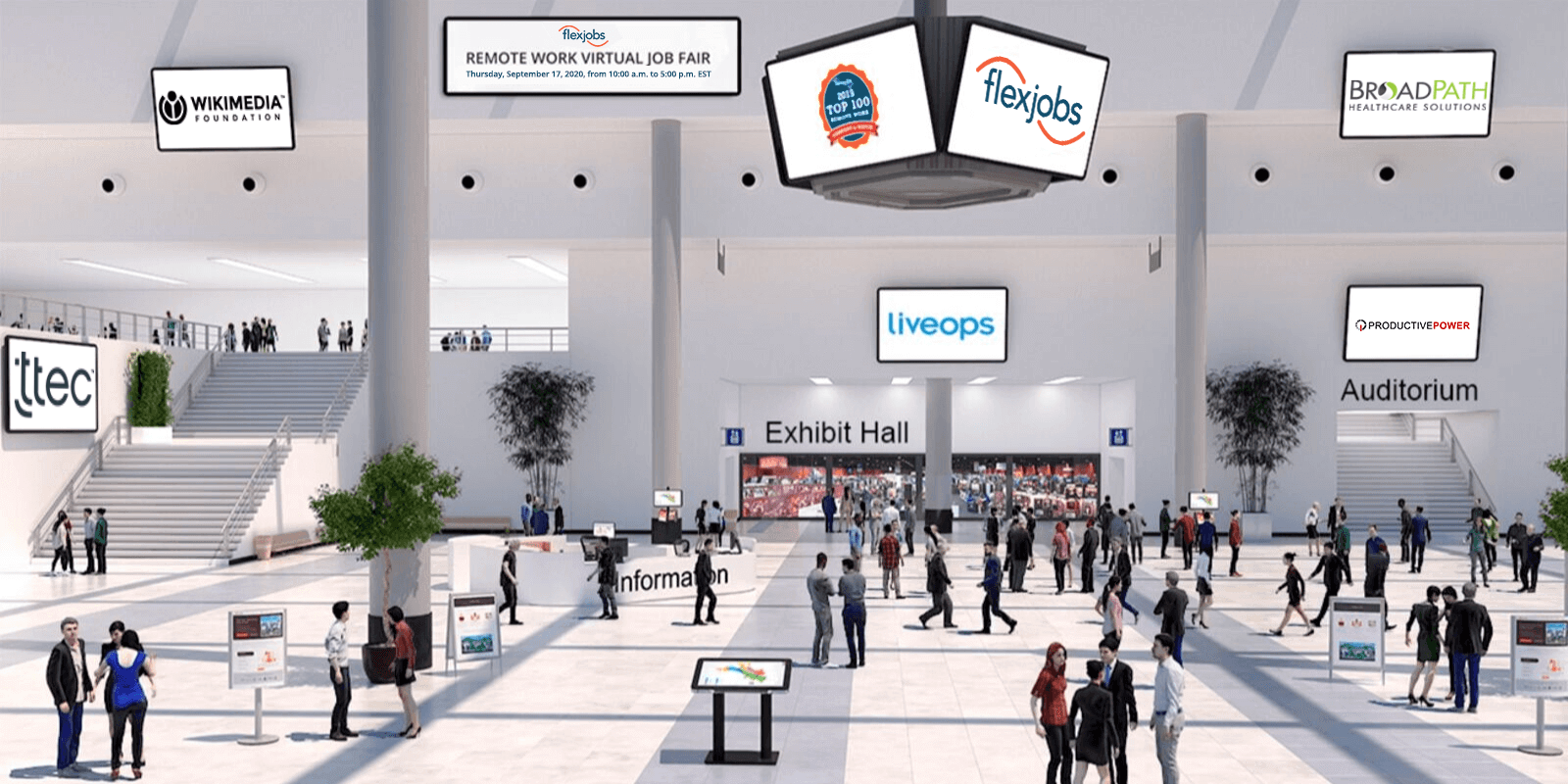 Example Virtual Benefits Fair – Sony
Sony's HR team hosted a virtual benefit fair to educate its 111,000 employees during open enrollment each fall. The event was held entirely online, allowing employees to log in from their computers or mobile devices to learn about the different benefits offered by the company. Staff, and their spouses, could visit virtual booths and interact directly with benefits representatives, view video presentations, and download information materials. The fair also offered interactive activities, such as quizzes and surveys, to help employees understand the benefits and make informed decisions.
Sony has four distinct divisions, each with different benefits. Therefore, they leveraged the virtual event platform's entitlement features to provide role-based access to sessions, rooms, booths, and content. This way Sony Entertainment employees did not see or have access to Sony Electronics benefits information.
The virtual benefits fair was a huge success, attracting a larger number of employees vs. the prior in-person events. Many employees appreciated the flexibility and convenience of the virtual format and found the interactive activities engaging and informative. Furthermore, the virtual benefits fair allowed employees to learn about the benefits at their own pace, without having to take time off from work to attend a physical event.
Tips & Takeaways:
Leverage role-based access to restrict attendee access to applicable content only.
Set up a separate room to display "what's new" since last year. Employees can quickly, in one location, see everything new that has changed (among all vendors) since last year for the upcoming benefits year/period. Each listing clicks either directly to that vendor's booth for more information.
Leverage gamification & surveys: The biggest selling feature of the virtual benefits fair was the tying up of activities with wellness points. To drive people to their event, and to track staff movements across the virtual environment the HR team incentivized actions. Employees earned wellness points for their participation. For instance, visiting different booths, listening to webinars, etc. These points turned into Health Savings Accounts dollars. This encouraged staff to explore more virtual ground, and successfully drove staff to the vendor booths. The surveys, on the other hand, ensured people understood the plans and were not just signing up for them.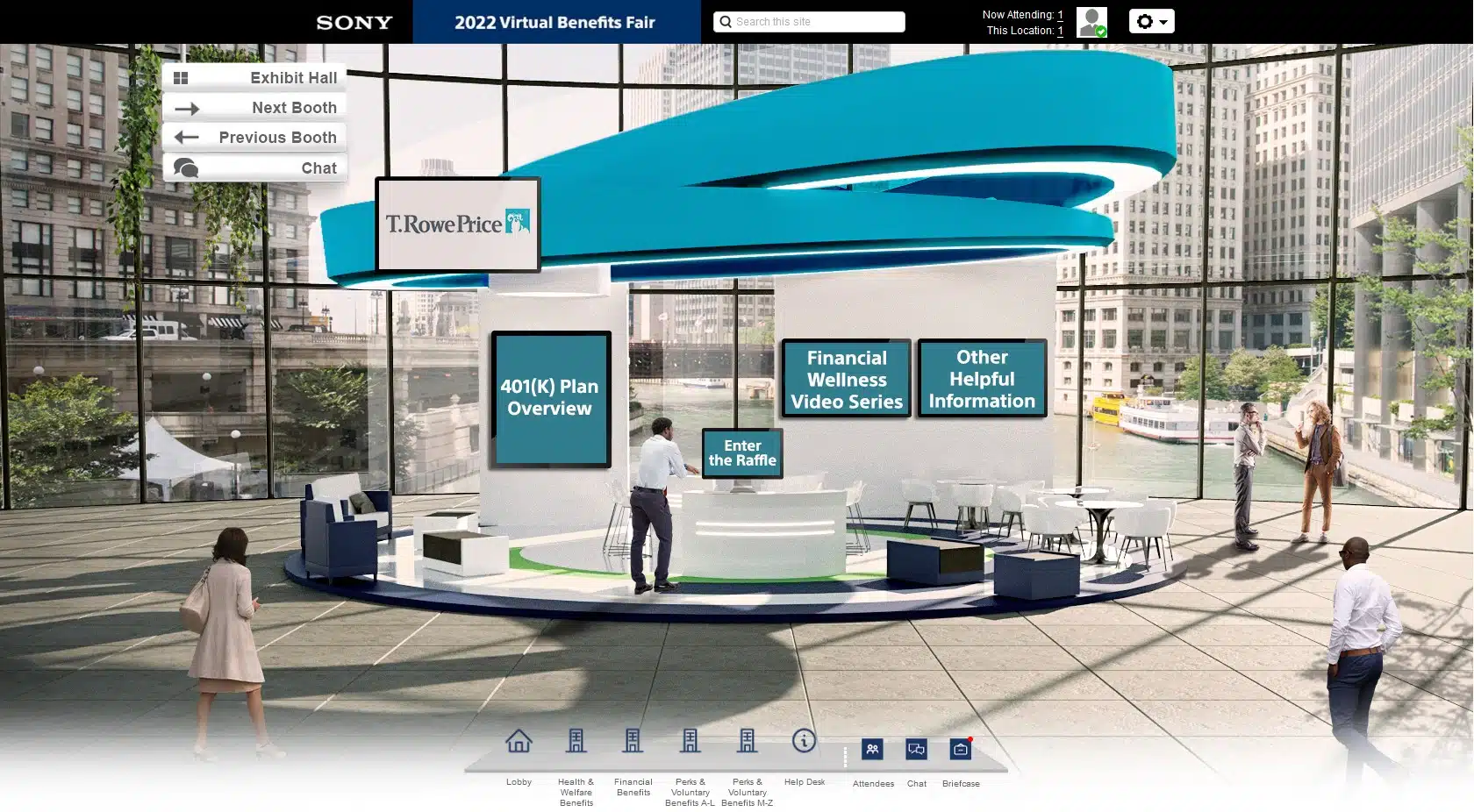 Example Virtual Sales Kickoff Event – Pure Storage

Pure Storage held its annual sales kick-off virtually to gather its global sales team online to discuss goals, strategies, and tactics for the upcoming quarter or year. The event was hosted on a virtual platform and was accessible from anywhere in the world. The company's senior management team used this platform to deliver presentations, provide updates, and answer questions from the sales team.
For an added wow factor and level of excitement, Pure Storage hired Sugar Ray Leonard to deliver its keynote speech. In addition, a live performance by Hootie & the Blowfish ended the event, keeping the audience members in their seats.
The virtual sales kick-off event was well received by the sales team and was a success. The employees appreciated the convenience of being able to attend from their homes and the interactive format allowed for real-time engagement and feedback from the sales team. Additionally, the company saved money on travel and lodging expenses and was able to reach a larger audience as attendees from remote locations were able to join.
Tips and takeaways:
Virtual sales kick-offs are an effective way to motivate and align your sales team.
Incorporate special guest speakers and entertainment to increase attendance and retention.
Cakebread Cellers Virtual Wine Tasting
Cakebread wanted a way to increase its reach with customers, so it turned to virtual wine-tasting events. While sipping wine from their sofa, guests can view vineyards tours, recipes from chefs, and behind-the-scenes wine making experiences.
The virtual exhibit hall included booths for each wine category as well as links to their website where guests could purchase wine for home delivery.
Tips for event planners:
Use a live streaming to allow attendees to interact with the wine expert and ask questions.
Include exhibit booths to showcase products and allow attendees to purchase the wines they tasted during the event.
Conclusion
Virtual events can be just as successful as in-person events, as long as you take the time to create an engaging and interactive experience for attendees. Offer exclusive content, make the event interactive, and use live and pre-recorded streaming to reach a larger audience.