Virtual Event Speaker Best Practices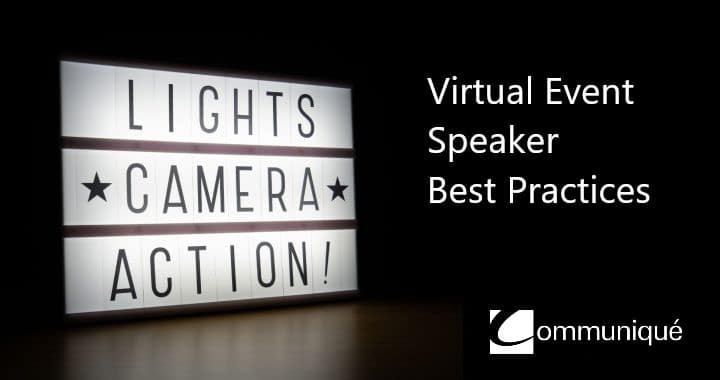 The biggest trend in 2021 is that virtual events, and hybrid-meeting, set up and execution will be more deliberate. In 2020, virtual event organizers reacted out of necessity—trying to do what they could as quickly as possible. Most people were relying on what they thought they knew about digital events versus what is actually possible. This article includes a comprehensive checklist for virtual event speaker best practices.
But now we are going to see more deliberate design around the virtual events and attendee experience just like physical events. Starting with handling speakers. Many planners thought these folks would level up their online abilities quickly, such as learning about cameras and microphones and presenting well via technology from home. But there are many professional speakers who do not have the setup for an engaging content experience.
Rehearsals are not happening often enough, and even when you send presenters a two-page guide on tech requirements, instructions and emergency-backup plans, too many of them ignore it. So, 2021 will see more time and financial investment by organizers in speaker training and speaker prep.
Create a virtual event speaker toolkit
Put together an information packet for your speakers so that they know exactly what to expect:
Include a calendar with any deadlines for deliverables and practice sessions clearly noted.
Provide access to branding guidelines such as PowerPoint Slide templates.
Provide system requirements for the webinar software they will be using.
Ask speakers for head shot images to use for speaker bios.
PowerPoint presentation recommendations:

The first slide should provide the title of your Session along with a list of all presenters with their affiliations
The second slide should include a clear agenda
Use easy-to-read fonts such as Arial and Times New Roman
Use a font size of 20 or bigger
Keep text to a minimum (6-8 lines per slide, no more than 30 words per slide)
Write in sentence fragments using key words
Avoid unusual colors and busy backgrounds
Limit the use of animations, builds, or effects
Avoid embedded videos in your PowerPoint presentation. Video clips can be pushed out separately anytime during the session.
Avoid sound effects and background music
Remember to proofread the slides, and to rehearse your slide presentations including a focus on length of time for delivery.
Presenter or other contact information should be included on the last slide, so that attendees may reach you should they have additional questions
Provide set up instructions
Lighting
Presenters will want a light source in front of, not behind, them. They should position any lamps so that the light bounces off of a wall in front of them for a more diffused lighting effect vs. directly in their face. If that's not possible, they should use lampshades to make sure the lighting is not too harsh. If they have windows behind them, encourage them to close the curtains.
Video
Speakers should place their camera a few inches above eye level and aim it slightly down for the most flattering angle. If they are using an integrated webcam, this may mean that they have to prop their laptop up on something or invest in a laptop stand.
Background
Speakers should de-clutter the room behind them.
Audio
Have your speakers test the microphone options available to them to determine which one offers the best sound quality. They may have an acceptable internal computer microphone or need to obtain a headset or microphone.
Internet and other applications
Ask your presenters to close any applications that may compete with the webinar platform for resources. When streaming 30 frames per second, your camera is taking 30 pictures of you each and every second, then sending them to the processor with instructions to forward the images through the webinar platform. This process requires the energy of your CPU. To engage in the smoothest possible meetings, close any applications you don't need to use for the meeting itself.
In addition, make sure other users on the network are not active if possible. For example, if the presenter is at home, make sure the kids are not streaming Xbox live or other bandwidth hungry apps.
Offer wardrobe tips for what looks best on camera
Encourage them to wear a full, business-appropriate outfit. It is tempting to choose comfortable, casual attire for the clothing items that we think will be out of frame. However, you never know when you'll have to stand up or move around.
In addition, it is best to avoid:
Busy patterns or stripes that may cause a moiré effect on camera.
Reflective clothing or jewelry that bounces light in a distracting manner or allows your attendees to see more of the speaker's environment than they should.
Noisy clothing or jewelry that creates distracting background noise.
Give your speakers a choice between pre-recorded (simulive) or live presentations
Not all speakers are comfortable or familiar with live-streaming a presentation. Give them the option to pre-record their presentation. Then, run the webinar as simulive. Even if a session is pre-recorded, you can still incorporate live components into your schedule like Q&A with the speaker.
If your speakers are presenting live sessions ask them to join 15 minutes prior to start time to ensure audio and video connections are working properly.
Simulive presentations can be recording using the software of their choice to prerecord the session (MP4 file). Different tools are available to assist speakers and enhance their presentation, please find some suggestions below:
More information to improve your video presentation
Encourage speakers to streamline their content
Virtual conference attendees have shorter attention spans vs. live event attendees. The best practice is to keep presentations to 30 minutes with 10 minutes or so for Q&A after if possible.
Practice, practice, practice!
Hold several practice sessions with your speakers:
Send speakers an example webinar so they can experience the webinar platform as an attendee including any features like Q&A, etc. This will help them see how to structure their content in the most engaging way for your attendees.
Do a training with the speaker to explain everything that will be used during the session.
Have the speakers test joining the webinar service as a presenter using the same PC, camera, microphone and internet connection they plan to use during the live day. Speakers that connect to the internet via a corporate VPN may need their IT department to adjust firewall settings.
Record a full run-through of the session. Your speaker can review the video and make any adjustments needed prior to the event. You can save the recording to use as a back-up plan if there are any technical difficulties on the day of the event.
Use a Moderator to manage the technology and Q&A for the speakers
Have someone from your team help the speakers run their webinar as a moderator. The moderator can help changes slides, manage chat/Q&A, and launch polls. Whenever possible, involve multiple points of support staff so that the presenter can focus solely on delivering their presentation.
Prepare back-up plans
If possible, record a practice session so that you can stream the video for your attendees if the speaker is unable to join the conference.
Virtual events are a new experience for many speakers. Since there are numerous webinar technologies available, even those familiar with the process may not be knowledgeable about your specific software provider. Make sure to check in with your speakers periodically before the event to gauge their comfort level and to help them.
Related Article: Simulating Energy With a Virtual Audience