Virtual Event Theme Ideas
Need help with virtual event theme ideas? Virtual events have become a mainstay of the events industry. The transition from live events to virtual events has been precipitated by recent global events such as the pandemic. Other factors such as logistics, time constraints, and budgetary considerations have also sped up the change.
When it comes to virtual events, many organizers wrongfully assume that these events have to be formal and bland. This may be true for certain events such as scientific events. But, in most cases, you can spice up a virtual event to make it more entertaining and engaging.
One easy way of doing so is to determine a specific theme for your virtual event. This theme can inform the nature of activities you select for the event. You can also reflect the theme in your event branding and marketing efforts. The key purpose of selecting a theme is to make a virtual event more fun, interesting, relatable, and engaging for your participants.
Here is a look at example themes you can use for your virtual and hybrid events.
Sports Theme
Change Theme
Trivia
The Seasons
Time Travel
Movie & TV
Music
Scavenger Hunt
International Food
Sports-Themed Virtual Events
Sports have been such an important part of history, unifying people, putting politics to the side, and enjoying a sporting event. It gives a sense of belonging to a community for people as they come together to root for their favorite teams and their countries. With live sports back after a long pause due to COVID-19, this is a good time for a sports-themed party.
The event can include virtual games focusing on a specific sport, such as soccer. You can also blend the design elements of the focus sport into your event branding and registration pages.
The best time to host sports-themed virtual events is when take place at or near the same time as a relevant live sporting event for instance, a soccer-themed virtual event will make more sense if you schedule it close to the FIFA World Cup.
Change-Themed Virtual Events
Change is disruptive. When wielded in a positive manner, it can mean growth, development, and progress to the next level. Change is also universal, so this theme can be applied to virtually any industry, organization, and business. The sheer appeal of change lies in the fact that it promises to unlock new horizons and opportunities.
You can choose 'Change' as the underlying theme for your virtual event. This particularly makes sense for startups and new ventures. The event can showcase 'Change' stories from the key stakeholders. You can also include relevant examples of how other businesses and companies have achieved change and progress in similar circumstances.
Fun Trivia-Themed Virtual Events
Trivia-themed events can also be a lot of fun that can be transported to the virtual realm with the right app integrations. You can use virtual trivia apps to create a highly interactive game environment for your virtual events. The trivia questions can be related to your company or any relevant area of interest such as music, movies, or literature.
A great thing about this type of theme is that you can also nominate winners and give awards. This creates an extra incentive for your audience and leads to higher engagement levels.
Virtual "Survey Says" Team Building Activity

The Seasons
The changing of seasons and holidays are great themes to use for virtual events. Leverage these themes for year around inspiration.
Spring
Use a spring theme to recognize growth. Decorate your virtual environment with floral scenes including blooming flowers. Consider sending plants and items infused with floral fragrance leading up to the event.
Summer
Design your virtual environment around fun beach themes. If your virtual event platform supports avatars don them in casual clothes and flip flops. Consider sending attendees a bottle of Rosé to sip while they enjoy your virtual event.
Summer Themed Virtual Event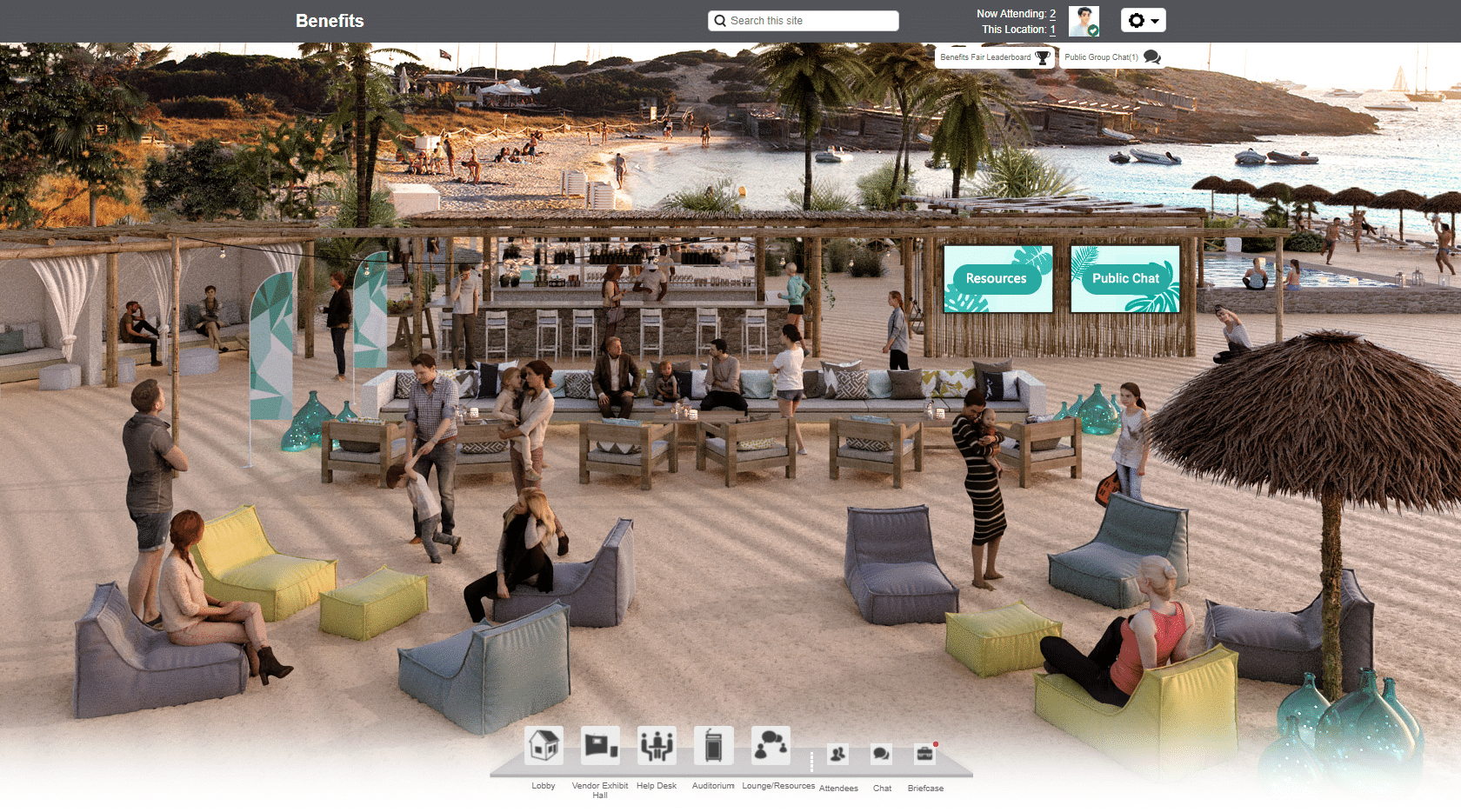 Fall
Leverage fall colors and leaves when designing your virtual environment. Send pumpkin carving kits before the event. Have participants share their photos and post them on social media (using your event hashtag) to compete for prizes.
Fall Themed Virtual Event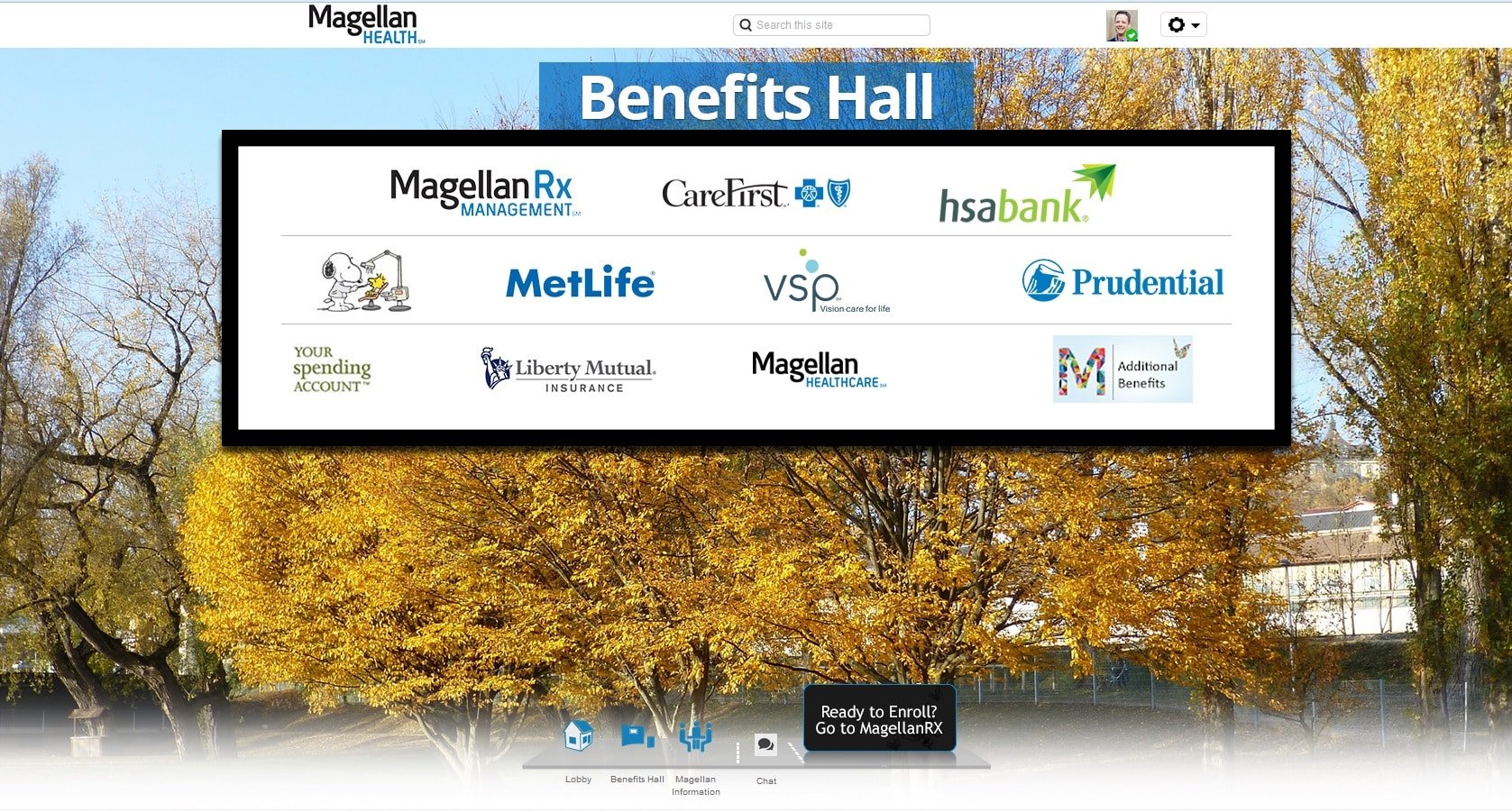 Winter
Utilize a winter wonderland design with snowy winter décor with a curated Mariah Carey holiday Spotify music playlist streamed during the event. Have attendees take selfies with their ugly sweaters and post them on social media to compete for prizes.
Winter Wonderland Themed Virtual Event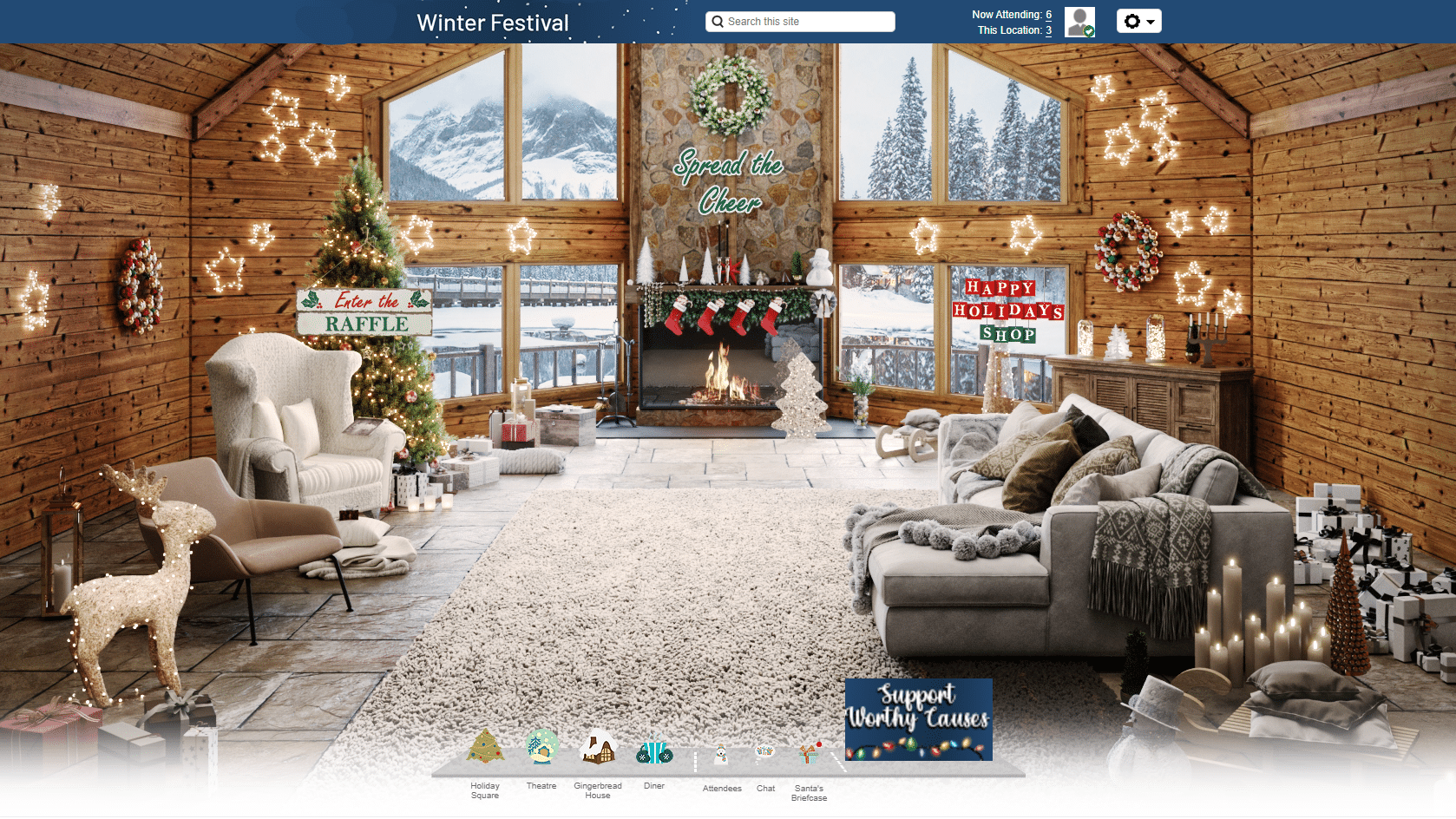 Time Travel
People love to reminisce on the past or dream about the future. Tap into memories of past times or treat participants to a glance at the future.
Vikings
Vikings were great Nordic seafarers. During the Viking Age, men and women were fearless and fierce warriors. That's why Vikings have had such a reputation. Viking-themed parties can make your virtual venue a real place for Vikings and Norse gods and goddesses. You can use decorations such as antlers, horns, swords, Viking ship models, and a raven flag. Mail your participants Viking hats, beer (including offering nonalcoholic beer), and personalized chalices.
Roaring 20s
The roaring twenties were a decadent historical heyday. Flappers, gangsters, and bootleggers reveled in secret behind the closed doors of the speakeasies that littered the American landscape during prohibition. The atmosphere was sensual and electric.
Decorate your virtual venue using gold, back, silver, and white colors. Think jazz and Great Gatsby theme.
In the 20s, when prohibition was in full swing, underground clubs known as speakeasies used to require guests to speak a password in order to enter. Set up a virtual room or breakout session that requires a special password (provided in the email confirmation) to enter.
'70s
Decide if you are going for an early 70s groovy, psychedelic theme, or a more disco-oriented party from the later part of the decade. Send participants mini disco balls along with retro snacks. Conclude the event with a virtual dance party with fellow attendees.
80s
Break out the big hair, shoulder pads, neon tops, leg warmers, finger-less gloves, and fanny packs for a '80s-themed affair. Mail your guests swatch watches, scrunchies, custom fanny pack or neon shirt.
Futuristic
If you're looking for an event which is innovative, visually striking and which really pushes the boundaries, then look no further than our Futuristic themed party.
Let your imagination run wild as we take your guests on a journey through time and space, into a world of futuristic characters, floating orbs, and neon lights.
Create your own vision of the future; from a gritty cyberpunk world splashed with neon, to a sleek, softly lit utopian dreamscape, the choice is all yours.
Movie and TV Show Themes
Movie themed party and event ideas – could there be anything more exciting?
Exposure to pop culture, art and travel really influences our lives, hobbies, and interests, which fundamentally shape the decisions we make. We may not notice it but everything we watch has some sort of imprint on our lives and these influences can be put to great use when planning an event.
As the decades go by, more and more film classics surface, becoming timeless in our repertoire of celebrated loves, from the likes of Back to The Future, James Bond, Harry Potter, Friends, and Looney Toons.
We can draw on these titles and find comfort knowing that they hold nostalgic value, but they can also be drawn upon as inspiration for our own celebrations when brought to life as live event experiences. These plots and visually stimulating narratives help us to create immersive experiences because they have a lingering presence in our minds.
Friends TV Show "I'll be there for you" themed Virtual Benefits Fair
Music Themes
Whether you like playing music or listening to it, a music party theme hits all the right notes. Whether its jazz, disco fever, or rock the event, your attendees love it. Mail your guests vintage tee shirts or memorabilia to get them in the mode.
Summer Solstice Music Themed Virtual Event
Scavenger-Hunt Themed Virtual Events
Scavenger hunts never fail to pique the interest of people from all age groups. They are also easy to translate into the virtual experience. It is easy to create an entire map, clues, treasure-troves, and a lot more in the digital space. Go with a dedicated scavenger hunt app or create your own treasure hunt.
It is also easy to integrate your event sponsors into a scavenger-themed digital event.  Your sponsors can offer branded awards and prizes for the winners. They can event set up dedicated branded maps or spaces in which the participants can hunt for clues and treasure trails.
International Food-Theme
This type of virtual event makes sense when your attendees include people from several nations. For instance, if the event is geared at a university audience with many overseas individuals, an international food theme can be the perfect icebreaker.
Mail a charcuterie box and wine sampler before the event. During the virtual event, have a sommelier host a virtual wine tasting. As a bonus, include a gift card to a local wine shop.
Beer & Cheese Pairing Experience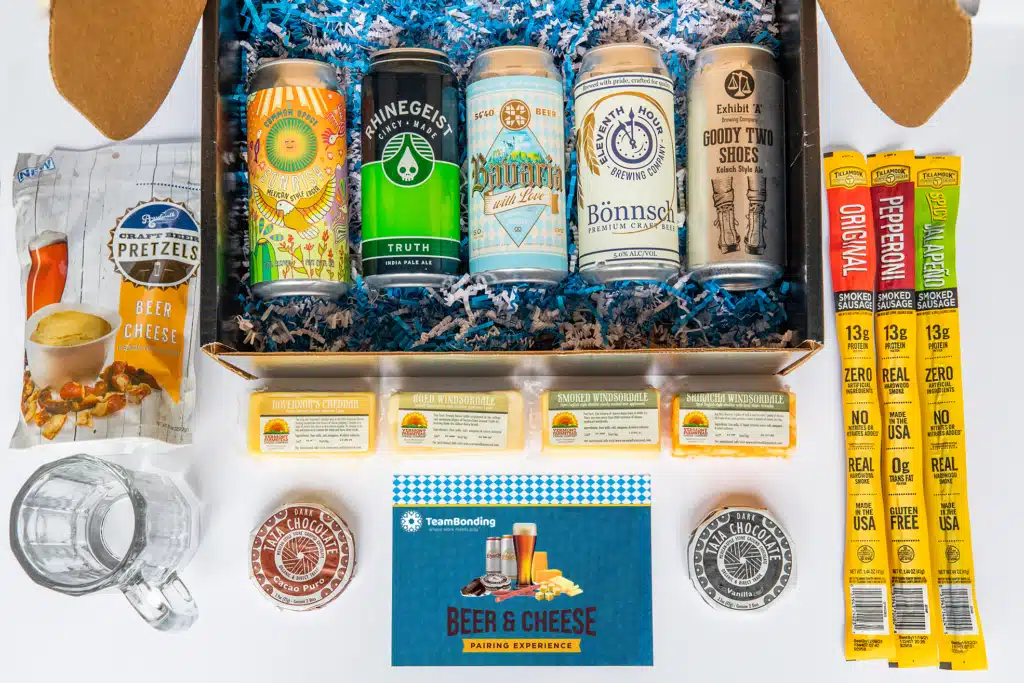 Conclusion
Virtual events are incredibly flexible and versatile. The possibilities are endless when it comes to virtual events. Like traditional, real-world events, you can choose any theme you want for a virtual event. Themes related to sports, food, movies, music, crafts, inspiration, change, and outdoor fun can all be incorporated into virtual events.
The important thing to consider is that each virtual event and its audience are unique. You must work with your own requirements while keeping the audience in mind.  This will help you craft tailored event experiences for your attendees while having fun and creating effective virtual event networking opportunities.
Ready to Host Epic Virtual or Hybrid Events?


Don't settle for mediocre event technology & support. Our event cloud virtual & hybrid event platform can help you host epic events of all kinds - from conferences to trade shows, career fairs to internal events, and more.