As virtual events have evolved over the past few years, it is critical for event planners to stay apprised of event trends. Particularly new ways to make their virtual events more interactive, engaging, and memorable. In this article, we will discuss the top virtual event trends and actionable tips to help you make your virtual events more successful.
Hybrid Events Continue to Grow in Popularity
73% of event marketers say they expect hybrid events to be more prevalent than ever. Hybrid events are events that have both in-person and virtual attendee components. They provide the best of both worlds, allowing guests to participate in your event in the way that works best for them. To make a hybrid event successful, it is important to create an experience that caters to each unique audience type.
Actionable Tip: Consider using a hybrid event platform that offers features like live streaming and real-time Q&A to keep the remote audience engaged. Make sure to provide clear instructions and resources for both in-person and virtual attendees.
Related article: How to Host a Hybrid Event – The Ultimate Guide from the Experts.
Year-Round Event Cycle
Organizations are increasingly embracing the year-round virtual event model vs. larger one-off events. By offering more frequent micro-events throughout the year, you can build a stronger sense of community and engagement with your audience vs. the single annual event strategy. Event 'series' and/or niche event themes will be more popular than ever. You can also take advantage of the flexibility that virtual events offer to adapt to changing circumstances and respond to feedback from audiences.
Many virtual event platforms allow the ability to create virtual environments that offer year-round content and community.
Shift From Revenue Generation to a Marketing Platform
Many companies are shifting their priorities for events from a revenue source to a marketing vehicle. For example, Microsoft hosted an in-person conference in 2019 in which 6,000 attendees paid $2,395 to attend. According to the Event Leadership Institute, Microsoft made the event free to attend virtually in 2020 – 197,000 people attended. The dramatic increase in reach, at a fraction of the cost, provided an impressive marketing platform that would not have been possible with an in-person event. While not everybody has seen such dramatic increases in attendance, the shifting from in-person to virtual events for established programs has typically generated a 30% increase in participation.
Gamification
Gamification is the process of adding game-like elements to your virtual event to increase engagement and participation. It is an effective way to make virtual events more interactive and memorable. Adding games and challenges can increase attendee participation and create a fun and competitive atmosphere.
Actionable Tip: Consider adding challenges, scavenger hunts, and quizzes to your virtual event. Use a leaderboard to showcase top performers and provide rewards for winners. If you are hosting a multi-day event, consider awarding daily prizes.
Networking Opportunities
Networking is an essential part of any event, and virtual events are no different. Attendees want to meet and connect with other like-minded individuals. However, often virtual events can make it difficult to facilitate these connections. Make sure to utilize a virtual event platform that offers both intentional (guests can search and connect with other attendees) and non-intentional networking (matchmaking suggestions and topic-based forums and workshops) features.
Actionable Tip: Use breakout rooms and forums to create smaller, more intimate group meetings where attendees can meet and connect with each other.
Immersive Experiences
Immersive experiences are a powerful way make your virtual event more engaging and memorable. These experiences can range from point-and-click 3D environments to Metaverse 3D virtual event platforms with Avatars.
Actionable Tip: Consider using a theme to make your virtual event more entertaining and engaging.
Add Production to Sessions
Webinar sessions are essential part of virtual events. But attendees don't prefer watching talking heads with slides for several hours. To keep their attention, they must be entertained like CNN broadcasts or YouTube shows. Add music and graphics to keep your attendees on the edge of their seats.
Actionable Tip: Use simulive sessions that are pre-recorded in advance with live Q&A. This enables you to edit and add graphics and music.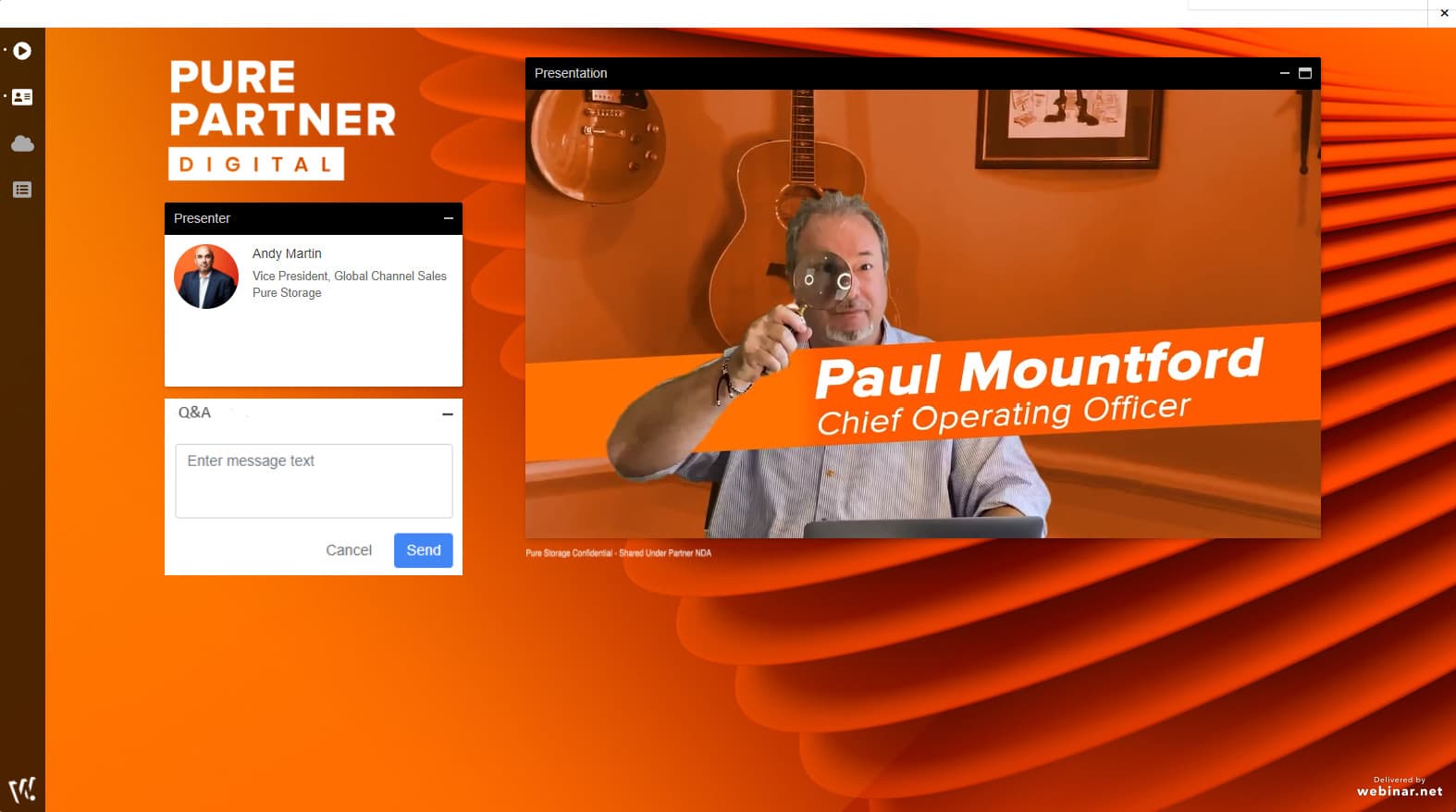 Personalized Experience
Personalization is a powerful way to make attendees feel more connected to the event. By tailoring the event to the specific interests and needs of each attendee, you can make your guests feel more connected to the event and increase their overall satisfaction.
How do you create a more personalized experience? By collecting information about attendees' interests, preferences, and goals, you can leverage this information to customize event agendas, offering personalized recommendations, and tailoring content to meet individual interests.
Actionable Tip: Use registration data to personalize the event experience for attendees. Many virtual event platforms include role-based access and A.I. to offer personalized recommendations based on attendees' interests.
Shorter Sessions with Tracks
Shortening session duration is important for virtual events because attendees are more prone to losing focus and attention during a virtual event than they would be in person. With the distractions of the internet and the environment they are in, attendees may struggle to maintain attention for extended periods of time. By breaking up longer sessions into shorter, more focused segments, you can help attendees stay engaged and attentive throughout the event.
Furthermore, shorter sessions can help prevent attendee burnout. Virtual events often require attendees to sit in front of a computer for extended periods of time, which can lead to fatigue and disinterest. By providing breaks between sessions, attendees can rest and recharge before engaging in the next segment.
Finally, use separate tracks to deliver more sessions in a shorter time frame.
Actionable Tip: Consider breaking up longer sessions into shorter, more focused segments. Provide breaks between sessions to give attendees time to rest and recharge. For example, let them network or explore the exhibit floor for 15 minutes.
Conclusion
Virtual events have become an essential venue to meeting your attendees where they want to be met. By using these virtual event trends and actionable tips, you can create more engaging, interactive, and memorable experiences that attendees will remember for years to come. Remember to consider your audience, personalize the experience, and offer a variety of engaging activities to keep attendees interested and engaged.
Ready to Host Epic Virtual or Hybrid Events?


Don't settle for mediocre event technology & support. Our event cloud virtual & hybrid event platform can help you host epic events of all kinds - from conferences to trade shows, career fairs to internal events, and more.